The box office is located in Room A121 across from the Kay Schomp Theatre and is open for over-the-counter or phone ticket sales Weds-Fri from 1:00 – 4:00 pm. On line tickets can be purchased 24/7 but sales will cease three hours before each performance. Additionally, unless the performance is sold out, available tickets can be purchased over-the-counter at the box office in the two hours before each performance. For questions or assistance, the Box Office phone number is 720-424-1713.
PLEASE NOTE: AT SOLD OUT SHOWS, ALL TICKETS/SEATS NOT CLAIMED BY CURTAIN TIME WILL BE RELEASED AND RESOLD TO PATRONS WHO HAVE SIGNED IN FOR A WAITING LIST. PLEASE ARRIVE PROMPTLY!!
Upcoming Performances:
WINTERFEST VOCAL CONCERT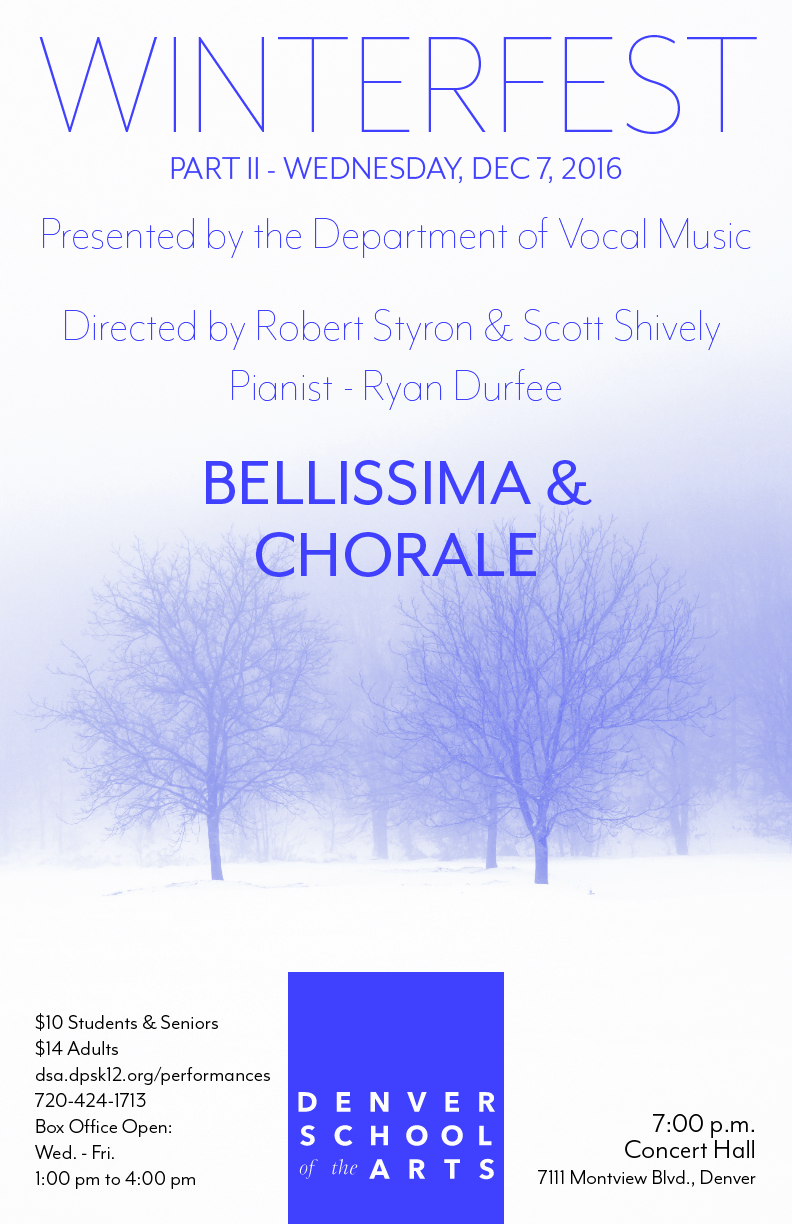 TUESDAY, December 6 – 7:00 pm
WEDNESDAY, December 7 – 7:00 pm
DSA CONCERT HALL
TICKETS: Adults – $14
Students/Seniors – $10

Tuesday night's program will feature the Treble Choir and Allegro Voce in a program of classics, cultural selections, and holiday melodies.
On Wednesday evening, the ladies of Bellissima and the Chorale will also serenade the audience with selections from the classical catalog and seasonal favorites.
VISUAL ARTS SECOND QUARTER SHOW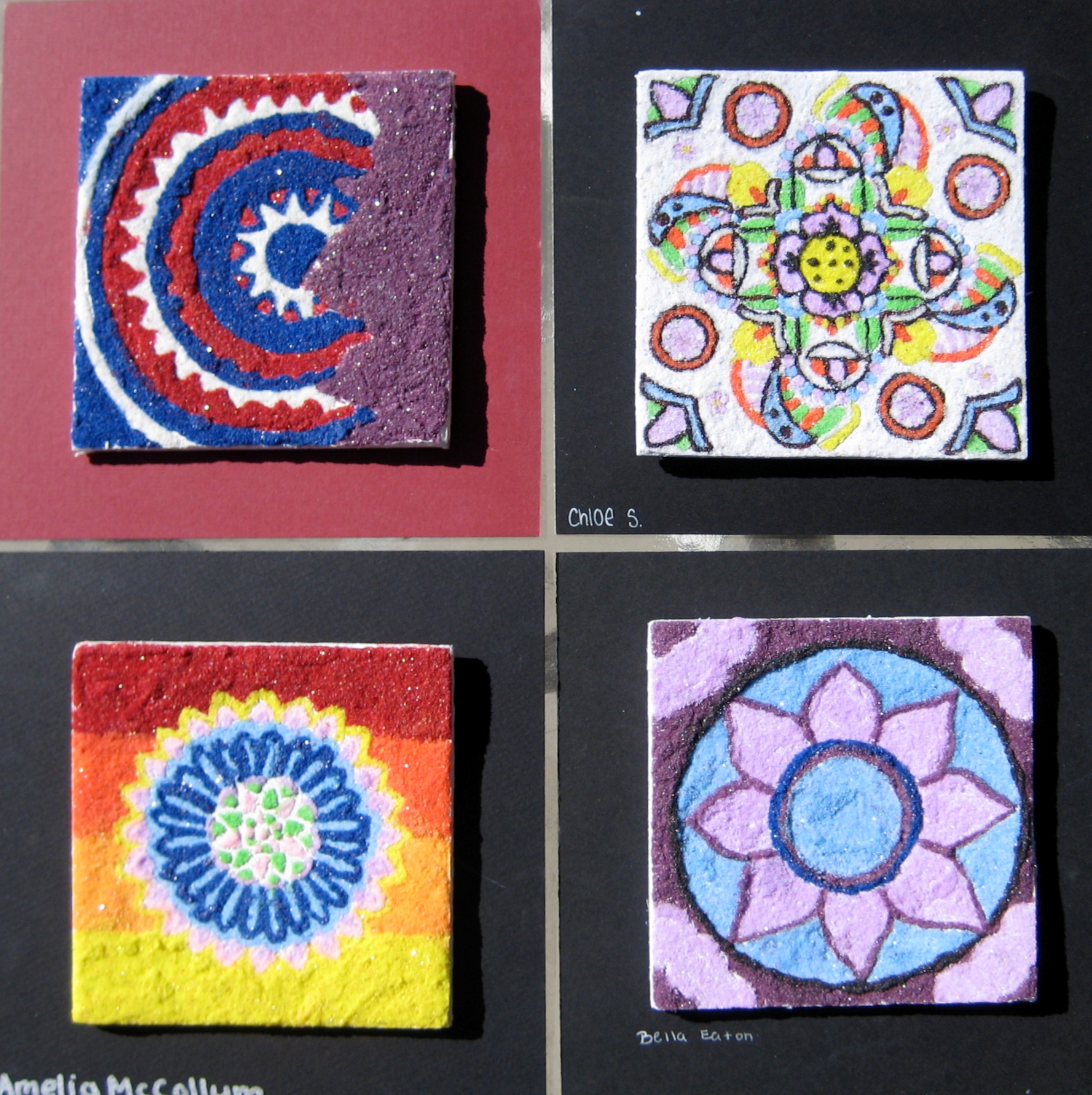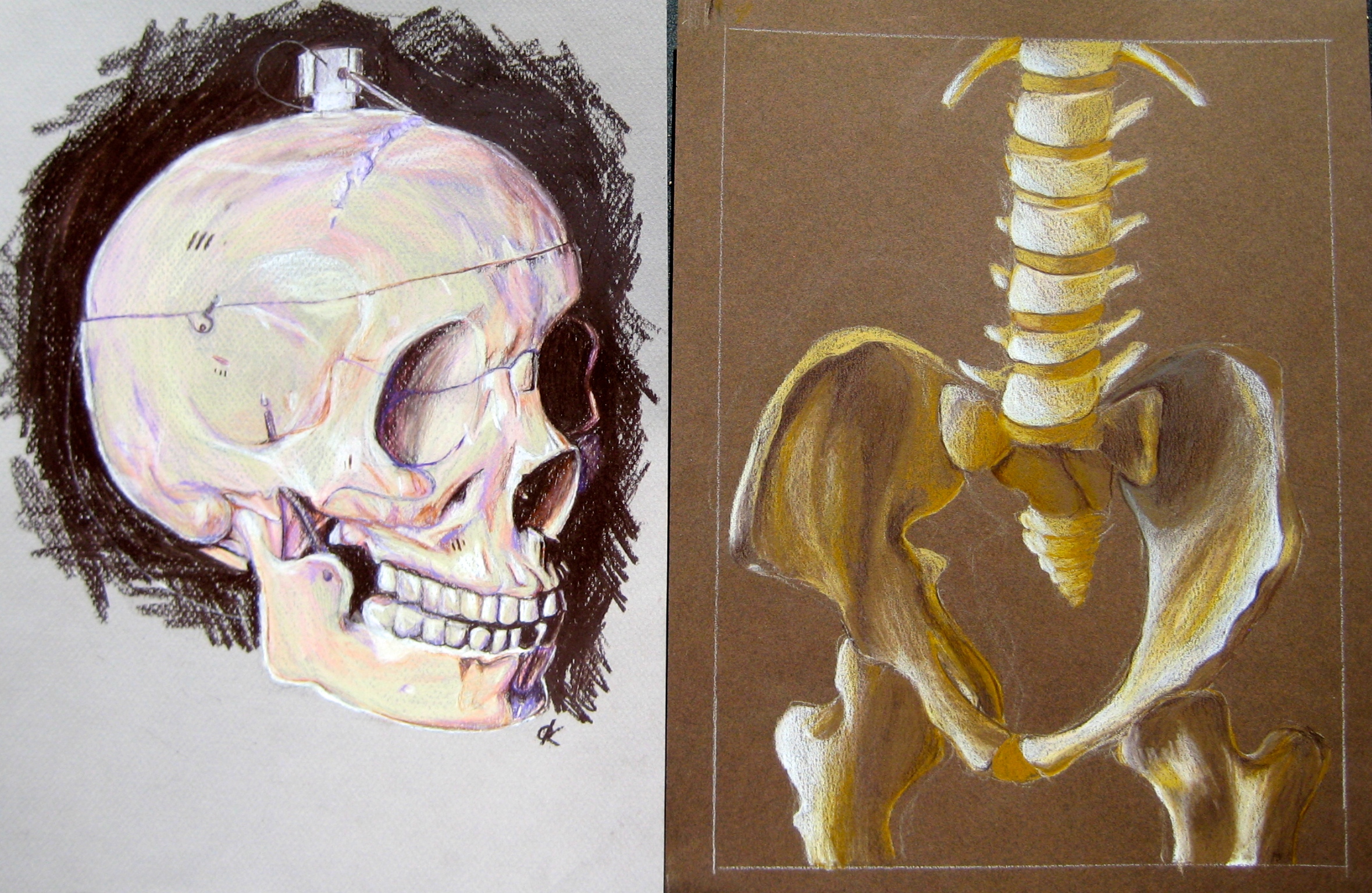 THURSDAY, December 8 – 6:30 pm
DSA MAIN HALL
FREE EVENT
The Visual Arts Department presents their Second Quarter Show which will feature ceramics, including modernist buildings and figurative sculptures, drawings, paintings and prints from over 100 students. A reception with the artists will take place from 6:30 – 7:30 p.m. (Pictured: freshmen skeleton drawings and Buddhist inspired sand paintings from Ms. Rosenbaum's 7th -8th grade majors and skeleton drawings from Mr. Cliff's freshmen.)
MOVING PICTURES, MOVING SOUNDS AND "V"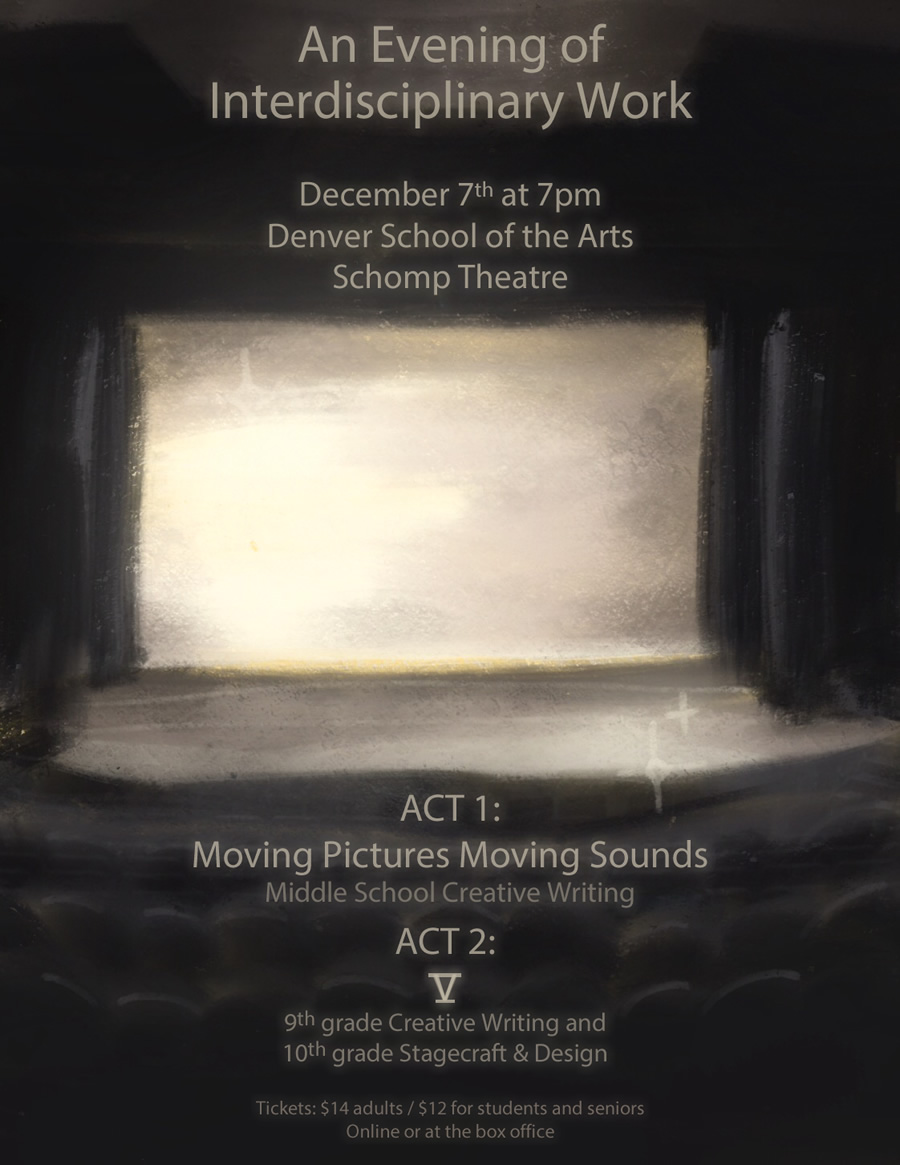 WEDNESDAY, December 7 – 7:00 pm
DSA SCHOMP THEATRE
TICKETS: Adults – $14
Students/Seniors – $12

For the first half of the evening, please join us for Moving Pictures, Moving Sounds , a middle school Creative Writing project involving photography, visual art, video, sound, and writing assembled creatively into twelve short performance pieces of variant subjects/themes.
The second half of the evening will be "V" or "Five", an interdisciplinary project created by ninth and tenth graders from the Creative Writing and Stagecraft & Design Majors designed to stretch artistic vernaculars, honor the creative process, and capture the students' experiences around a common theme. While subject matter is open-ended and expansive, each of the six group performances will involve five distinct ingredients, including: a repeated gesture, vines, a withheld secret, a familiar melody and an interruption.
We hope you join us for this spectacularly innovative, unconventional, and entirely student-created artistic evening!
WINTER BAND CONCERT AND AUCTION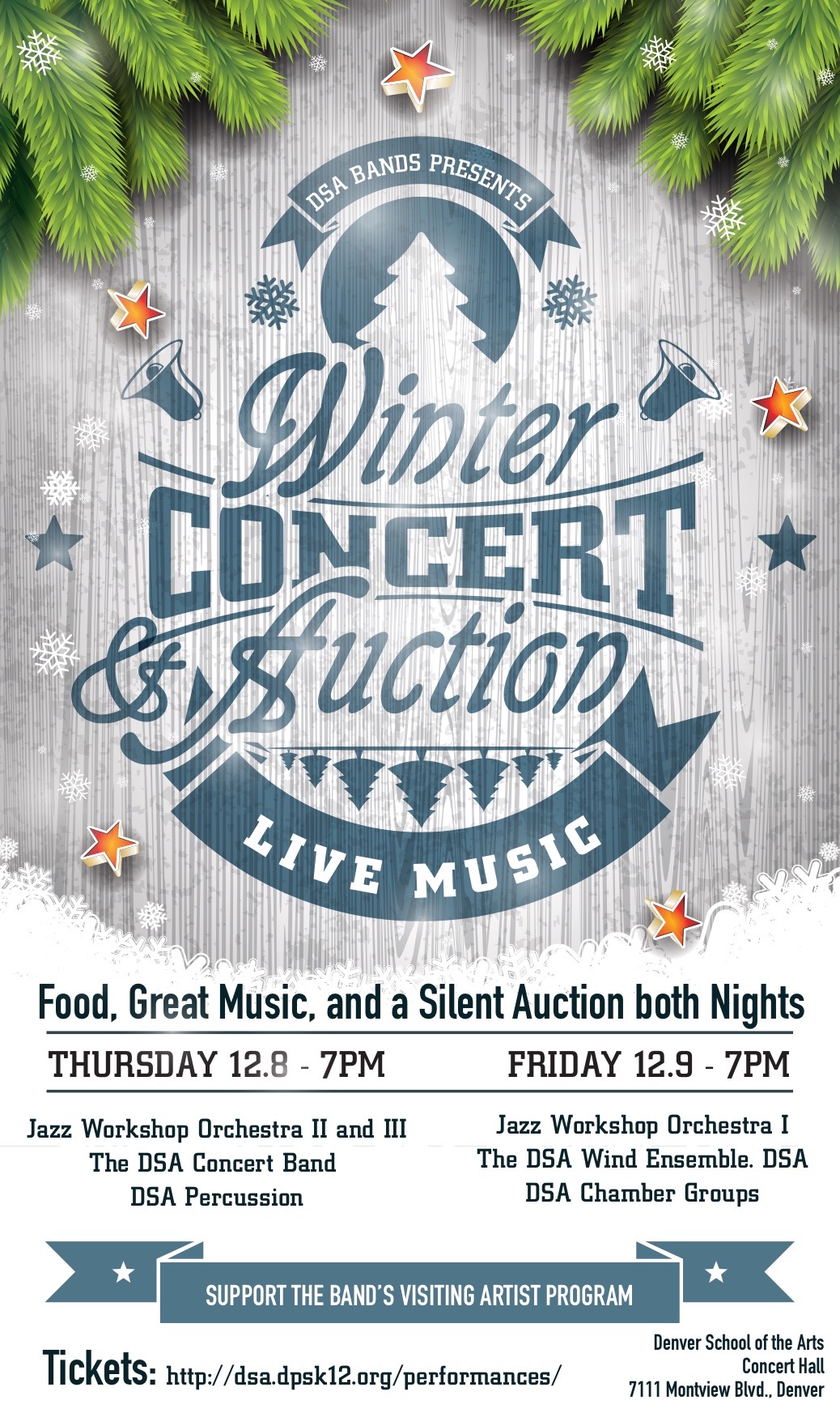 THURSDAY, December 8 – 7:00 pm
FRIDAY, December 9 – 7:00 pm
DSA CONCERT HALL
TICKETS: Adults – $14
Students/Seniors – $10

THURSDAY, December 8th's concert will feature the Jazz Workshop Orchestra II and III, the DSA Concert Band and the outstanding DSA Percussion group in a program of classics and seasonal favorites.
FRIDAY, December 9th will provide the opportunity for you to enjoy the music of the Jazz Workshop Orchestra I as well as the DSA Wind Ensembles and Chamber Groups.
Come early both nights to bid on the exciting items featured in the annual Silent Auction which supports the Music Department's Visiting Artist program which exposes students to the talents of professional musicians from all over the country. This is your chance to get a really unusual or special holiday gift for that hard-to-buy-for person on your list. Don't forget there will be food on hand for your enjoyment as well.
SUPER – the VCA Fall Film Festival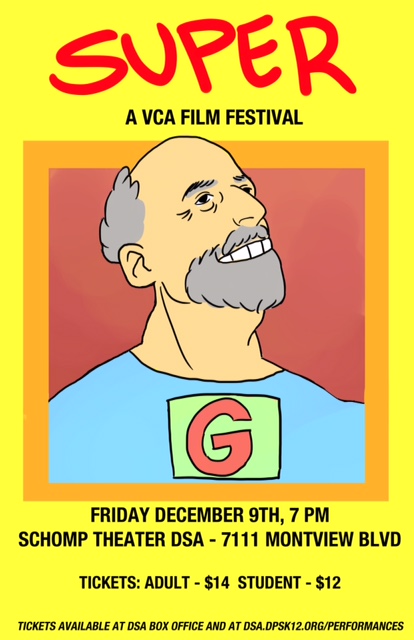 FRIDAY, December 9 – 7:00 pm
DSA Schomp Theatre
TICKETS: Adults – $14
Students/Seniors – $12

This evening will feature puppet animation and live action super-hero shorts from the Middle School VCA students. Also projected will be the High School students narrative shorts based on works of art observed at the Denver Art Museum and animations in all mediums. Something for everyone.
ORCHESTRA CONCERT
SATURDAY, December 10 – 7:00 pm
SUNDAY, December 11 – 3:00 pm
DSA CONCERT HALL
TICKETS: Adults – $14
Students/Seniors – $10

This first half of this evening of glorious music will feature the Middle School students playing selections from Mozart and Dvorak as well as the Harry Potter theme. The High School students will finish the evening with the assistance of guest artists Takashi Yoshimatsu and Mia Herlinger. Frank Nowell from the Baroque Chamber Orchestra will be also featured playing a Bach Concerto for Harpsichord with the students.