The box office is located in Room A121 across from the Kay Schomp Theatre and is open for over-the-counter or phone ticket sales Weds-Fri from 1:00 – 4:00 pm. On line tickets can be purchased 24/7 but sales will cease three hours before each performance. Additionally, unless the performance is sold out, available tickets can be purchased over-the-counter at the box office in the two hours before each performance. For questions or assistance, the Box Office phone number is 720-424-1713.
Upcoming Performances:
DENVER SCHOOL OF THE ARTS ORCHESTRA CONCERT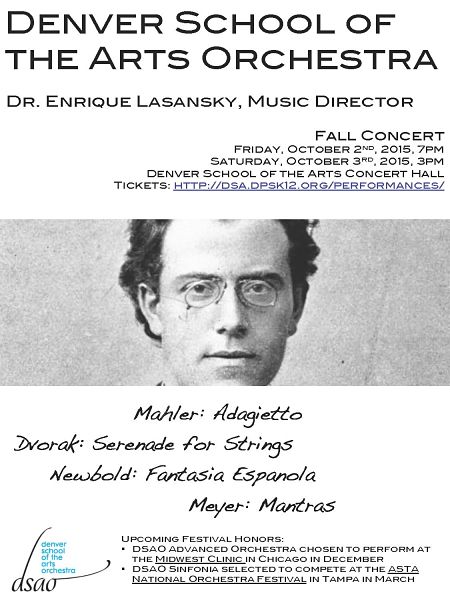 Conducted by Enrique Lasansky
SATURDAY, October 3 at 3:00 pm
DSA CONCERT HALL
ADULTS: $14.00
STUDENTS/SENIORS: $10.00

Get your tickets now for the first Orchestra Concert of the new season. Featuring the music of Mahler, Dvorak, Newbold, and Meyer, this promises to be a spectacular start to our season.
We are proud to announce that the Denver School of the Arts Orchestra has been invited to participate in two prestigious orchestral events this year. In December the DSAO Advanced Orchestra will be traveling to Chicago to perform at the Midwest Clinic. The DSAO Sinfonia has been selected to compete in the American String Teachers Association (ASTA) National Orchestra Festival in Tampa in March.
Our concerts frequently sell out because of the limited seating and popularity of the program. Please buy your tickets early to avoid disappointment.
DSA PERCUSSION FUNDRAISER AND CONCERT
TUESDAY, October 7 at 7:00 pm

DSA CONCERT HALL

ALL TICKETS: $15.00 at the door

As a fundraiser to create funds for their trip to Texas in November to participate in the International Percussive Arts Society Convention, the DSA percussionists will serve up a tasty dinner and perform an exclusive concert for their audience. The $15 ticket includes a delicious meal prepared by the DSA Percussion families, entrance into a raffle for great prizes, and a concert featuring solos, trios, duets and large percussion pieces to spotlight the talent of these young musicians. Come one; come all. Get your tickets from a member of the group or at the door.
CLASSICAL GUITAR CONCERT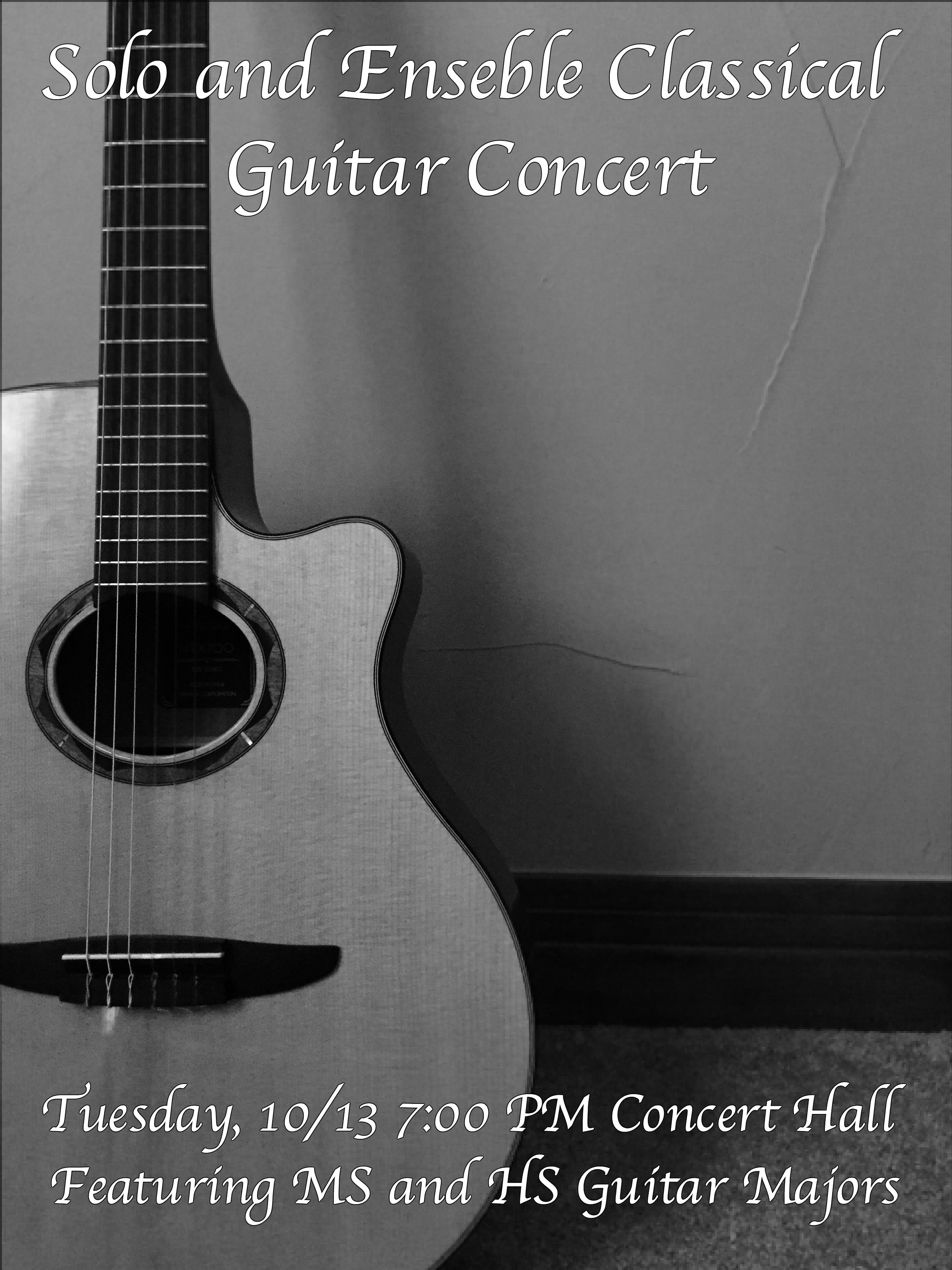 MONDAY, October 13 – 7:00 pm
DSA CONCERT HALL
ADULTS: $14.00
STUDENT/SENIORS: $10.00

Join us for an intimate night of Classical Guitar music as both Middle School and High School majors initiate their new year. They will be performing classical solo and ensemble selections to display their skills.
VISUAL ARTS DEPARTMENT EXHIBITS
The DSA Madden Gallery (in the front office) exhibits "SWEET" this month, a selection from the summer work assignments of our Visual Arts Majors. The show references the work of California artist Wayne Thiebold who paints bright images of cakes, pastries, and candies. Also on display in the office gallery are self portraits and ceramics by Visual Arts Junior Class students.

Displays in the Main Hall include a variety of 2-D and 3-D work done by our Grade 9 through 12 Visual Arts majors from their summer assignments.

When you come for a concert or to conduct school business, be sure to visit the Gallery and walk around the halls to enjoy the ever-changing art on the walls displaying the talent, imagination and creativity of our Visual Arts students.
BAND JAZZ SYMPOSIUM SERIES OF CONCERTS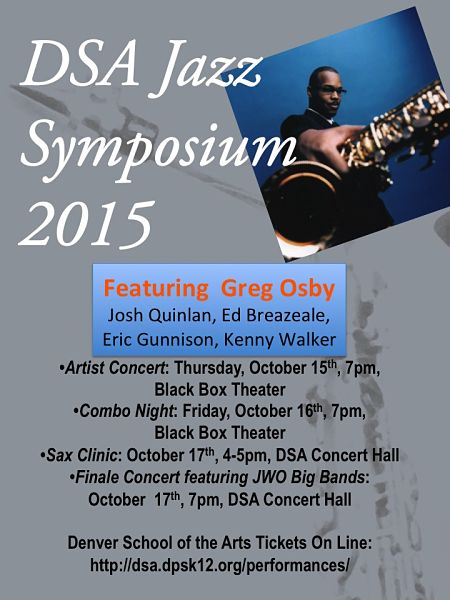 THURSDAY, October 15 at 7:00 pm
ARTIST CONCERT NIGHT Featuring Guest Artists
DSA BLACK BOX THEATRE
ADULTS: $14.00
STUDENTS/SENIORS: $10.00
FRIDAY, October 16 at 7:00 pm
Combo Night Featuring DSA Jazz Combos
DSA BLACK BOX THEATRE
FREE PERFORMANCE
SATURDAY, October 17 from 4:00 pm to 5:00 pm
FREE Saxophone Clinic for all interested musicians
DSA CONCERT HALL
Finale Concert at 7:00 pm
DSA CONCERT HALL
ADULTS: $14.00
STUDENTS/SENIORS: $10.00

"Symposium" is defined as a convivial party with music and conversation; a social gathering at which there is a free interchange of ideas. This Jazz Symposium is going to offer just that to our participating students.
This series of Jazz concerts will demonstrate and celebrate the work of Guest Artist Greg Osby and his work with our students. He is joined by Jazz colleagues Josh Quinlan, Eric Gunnison, Kenny Walker and Ed Breazeale for an amazing concert in the Black Box Theatre on the 15th.
After continuing work with the students, the Jazz Workshop Orchestra students will demonstrate their skills in a concert in the Black Box Theatre on the 16th.
Finally, on the 17th in the Concert Hall, the Jazz Workshop Orchestra will perform the music of Oliver Nelson, Duke Ellington and Buddy Rich with Guest Artist Greg Osby sitting in with the students. A Jazz event not to be missed.
FALL VOCAL CONCERT SERIES 1
THURSDAY, October 15 – 7:00 pm
DSA CONCERT HALL
ADULTS: $14.00
STUDENT/SENIORS: $10.00

Enjoy the beautiful voices of the Allegro Voce and the Treble Choir in this presentation of multicultural musical traditions sung in the native language. Our students singing in Korean, Ghanaian, Latin, Hebrew and English will celebrate the music of the world.
FUSION – a Dance Concert
FRIDAY, October 16 – 7:00 pm
SATURDAY, October 17 – 7:00 pm
DSA Dance Studio
ADULTS: $14.00
STUDENT/SENIORS: $10.00
Tickets available over the phone (720-424-1713) or over the counter during the regular box office hours or two hours before the performance.
The Department of Dance presents FUSION- a collaboration between DSA students and Denver area professional choreographers and dancers. The concert features the work of David Reuille with Apex Dance, Kim Robards of Kim Robards Dance and Nile Russell at Nile Russell Dance. These artists will create three works for the DSA advanced dancers as well as present their own work with their professional companies and collaborators.
SPRING AWAKENING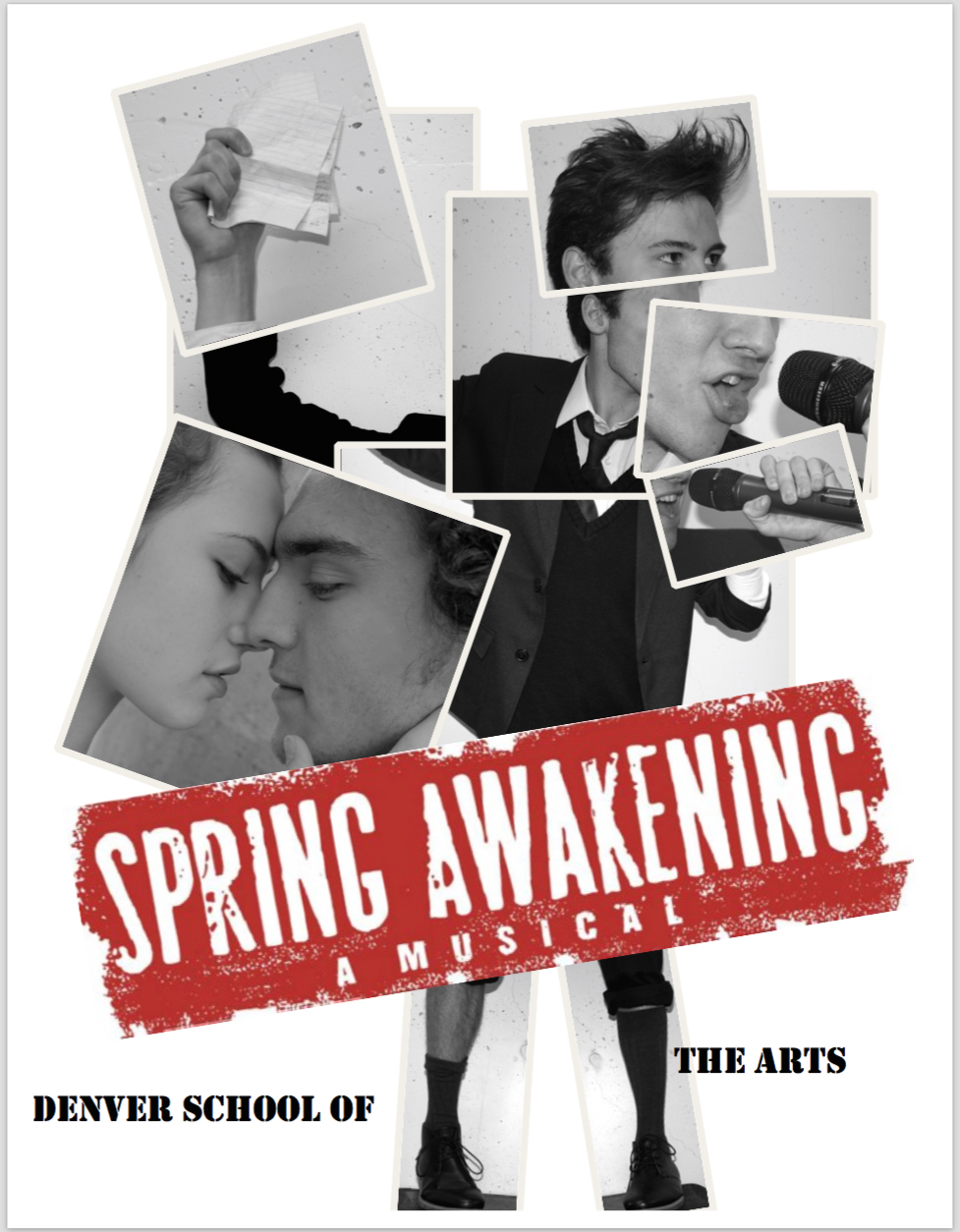 Directed by Shawn Hann
TUESDAY, October 20 – 7:00 pm
WEDNESDAY, October 21 – 7:00 pm
THURSDAY, October 22 – 7:00 pm
FRIDAY, October 23 – 7:00 pm
SATURDAY, October 24 – 2:00 pm
SATURDAY, October 24 – 7:00 pm
SUNDAY, October 25 – 2:00 pm
DSA Schomp Theatre and On Stage Seating
ADULTS: $20 Orchestra and On Stage//$16.00 Mezzanine and Balcony
STUDENT/SENIORS: $14 Orchestra and On Stage//$12.00 Mezzanine and Balcony

Teenagers from both the 19th and 21st century unite through this musical exploration of coming of age and the miscommunication between adults and kids. Themes include the exploration and understanding of intimacy, sexuality, religion, authority, and abuse. SPRING AWAKENING was written by Duncan Sheik and Steven Sater, inspired by the shooting at Columbine High School, and was adapted from Frank Wedekind's 1891 original play. It is sure to rock you right out of your chair.
CONTAINS STRONG LANGUAGE AND MATURE CONTENT.
This is sure to be a popular event – Please buy your tickets early to avoid disappointment.