The box office is located in Room A121 across from the Kay Schomp Theatre and is open for over-the-counter or phone ticket sales Weds-Fri from 1:00 – 4:00 pm. On line tickets can be purchased 24/7 but sales will cease three hours before each performance. Additionally, unless the performance is sold out, available tickets can be purchased over-the-counter at the box office in the two hours before each performance. For questions or assistance, the Box Office phone number is 720-424-1713.
Upcoming Performances:
CARMINA BURANA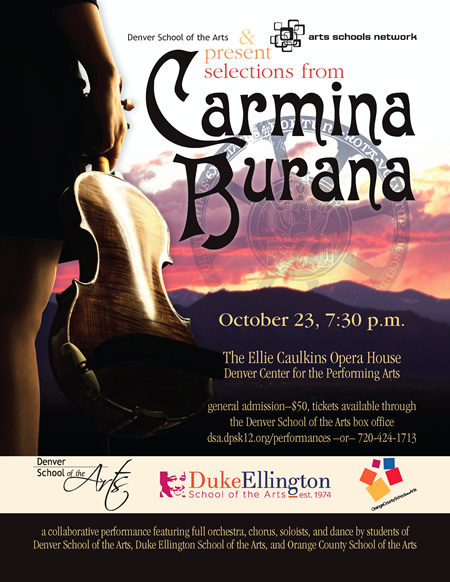 Carl Orff
OCTOBER 23 at 7:30 pm
Ellie Caulkins Opera House
Denver Center for the Performing Arts (14th and Curtis, Denver)
GENERAL ADMISSION – $50.00 all tickets

A Collaborative performance featuring full orchestra, chorus, soloists, and dance by students of Denver School of the Arts, Duke Ellington School of the Arts in Washington, D.C., and Orange County (Santa Ana, California) School of the Arts.
CARMINA BURANA was written in 1935 by Carl Orff based on 24 of the poems from a medieval collection by the same name. The poems cover a wide range of topics from the fickleness of fortune and wealth, the fleeting nature of life, the joy of the return of Spring, and the pleasures and perils of drinking, gluttony, gambling and lust which was a prevalent in the 12th century as it is today. The Wheel of Fortune turns making joy become bitterness and hope dissolve to grief. Written as a staged work involving dance, choreography, and visual design as well as the music, this production promises visual surprises and musical magic.
A once-in-a-lifetime performance – not to be missed!!
MACBETH3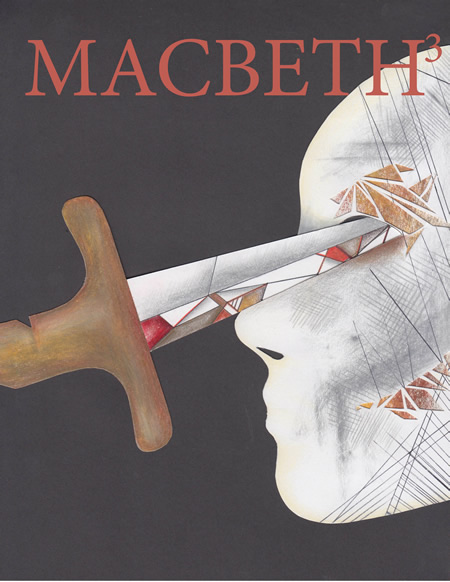 Macbeth3
Blood will have blood….
Directed by Brandon Becker
Oct. 24 – 7pm
Oct. 25 – 7pm
Oct. 30 – 7pm
Nov. 1 – 2pm and 7pm
DSA Schomp Theatre
ADULT – $20 for orchestra; $16 for balcony
STUDENT/SENIORS – $14 for orchestra; $12 for balcony

Would you kill to reach your destiny? In our post-modern production of Macbeth3 the answers are both simple and terrifying. As the ancient past collides with a utopian future – Shakespeare's popular and thrilling classic reveals the depths that we can sink to as humans to gain control of our existence. Using live musical accompaniment and the power of unexpected stagecraft; Macbeth3 is guaranteed to be full of surprises that will leave you breathless…
FALL VOCAL CONCERT SERIES 2
Conducted by Rob Styron and Scott Shively
THURSDAY, October 30 - 7:00 pm
DSA Concert Hall
ADULTS: $14.00
STUDENTS/SENIORS: $10.00

Be sure not to miss the sweet sounds of the Ladies of Bellissima. the mellow music of 4Squared, and the vocal stylings of the Vocal Jazz Ensemble in a program featuring a Jazz repertoire, a sampling of World Music, and the uptown beat of Show Choir music.
Don't be disappointed. Buy your tickets early – the Concert Hall frequently sells out.
ZOMBIES ARISE!! HAUNTED HOUSE
Created by the Stagecraft Department
WEDNESDAY, October 29 – 3:00-5:00 pm
General Admission: $7.00
VIP Admission (move to the front of the line): $10.00
Re-entry tickets available at the door for $3.00/general admission or $5.00 VIP admission
Tickets available over the phone or over the counter at the Box Office ONLY – no on-line sale.
The Walking Dead arise for two hours on the Eve of Halloween. Be prepared for the fright of your life.
HOWL'S MOVING CASTLE
Anime directed by Hayao Miyagaki
WEDNESDAY, October 29 – 5:00 pm
DSA Schomp Theatre
GENERAL ADMISSION: $10.00
HOWL'S MOVING CASTLE is a 2004 animated Japanese fantasy film directed by Hayao Miyazaki based on a book by Diana Wynne Jones. It was released in the US in 2005 by Disney and nominated for an Academy Award for Best Animated Feature.
Sophie, an 18-year-old hatmaker, is transformed into an old lady by the Witch of the Waste who is jealous of her relationship with a Wizard named Howl. Her adventures as she tries to break the spell take her to Howl's castle, introduce her to a fire demon named Calcifer, help her prevent a war and move her toward a happy ending. It features the voices of Emily Mortimer, Christian Bale, the late Lauren Bacall and Billy Crystal among others.
Enjoy pizza and a movie with our young film makers!
THEATRE SCENE NIGHT
THURSDAY, November 6 – 6:00 pm
FRIDAY, November 7 – 6:00 pm
DSA Schomp Theatre
FREE EVENT
Join us for a celebration as all seven grades levels perform for you — for free! Beginning at 6PM and going until 9:30PM both nights, every student in theatre will perform a duet, group scene or musical number over the course of two evenings. In addition, every grade performs a group musical selection as well. We have arranged for FOOD TRUCKS to park in the DSA parking lot before 6 so have dinner here. Come watch and celebrate our kids as they perform their annual SCENE NIGHT performance.
ON THE VERGE
Directed by Tim Grant
WEDNESDAY, November 12 – 7:00 pm
THURSDAY, November 13 – 7:00 pm
FRIDAY, November 14 – 3:30 pm
FRIDAY, November 14 – 7:00 pm
SATURDAY, November 15 – 2:00 pm
SATURDAY, November 15 – 7:00 pm
DSA Black Box Theatre
ADULT – $14
STUDENT/SENIORS – $10

Three intrepid female Victorian adventurers embark on a journey of discovery and learn that neither adversity nor romance can discourage them as they travel through space and time.