The box office is located in Room A121 across from the Kay Schomp Theatre and is open for over-the-counter or phone ticket sales Weds-Fri from 1:00 – 4:00 pm. On line tickets can be purchased 24/7 but sales will cease three hours before each performance. Additionally, unless the performance is sold out, available tickets can be purchased over-the-counter at the box office in the two hours before each performance. For questions or assistance, the Box Office phone number is 720-424-1713.
Upcoming Performances:
SHREK, The Musical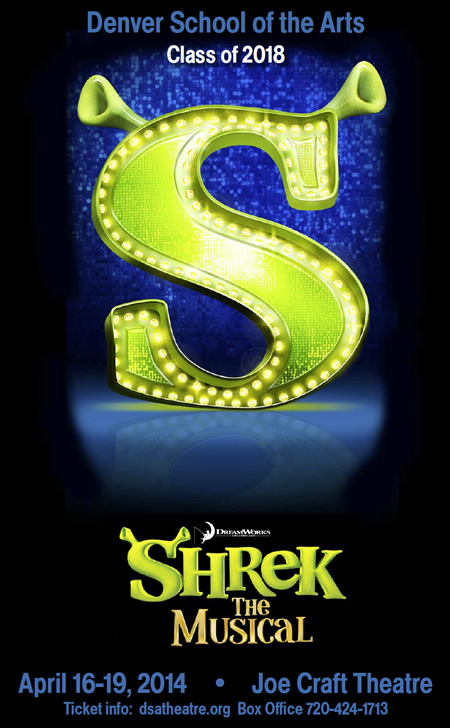 Music by Jeanine Tesori
Book and Lyrics by David Lindsay-Abaire
Based on the DreamWorks Animation Motion Picture and the book by William Steig
DIRECTED by Shawn Hann
WEDNESDAY, April 16 – 7:00 pm
THURSDAY, April 17 – 7:00 pm
FRIDAY, April 18 – 7:00 pm
SATURDAY, April 19 – 2:00 pm
SATURDAY, April 19 – 7:00 pm
BLACK BOX THEATRE
Adults – $12.00
Students/Seniors – $10.00

SHREK, THE MUSICAL, based on the Oscar winning DreamWorks film that started it all, brings the hilarious story of everyone's favorite ogre to dazzling new life on the stage.
In a faraway kingdom turned upside down, things get ugly when an unseemly ogre – not a handsome prince – shows up to rescue a feisty princess. Throw in a donkey who won't shut up, a bad guy with a SHORT temper, a cookie with an attitude and over a dozen other fairy tale misfits, and you've got the kind of mess that calls for a real hero. Luckily, there's one on hand . . . and his name is Shrek.
The 8th grade theatre majors and stagecraft majors come together to stage one amazing fairy tale!
JAZZ CAFE
JAZZ AT THE MERC has been postponed because of travel conflicts with our student musicians. The event will be re-scheduled when our Jazz groups return from the performances in Washington, D.C. Stay tuned for more information and thank you for your support.
BRILLIANCE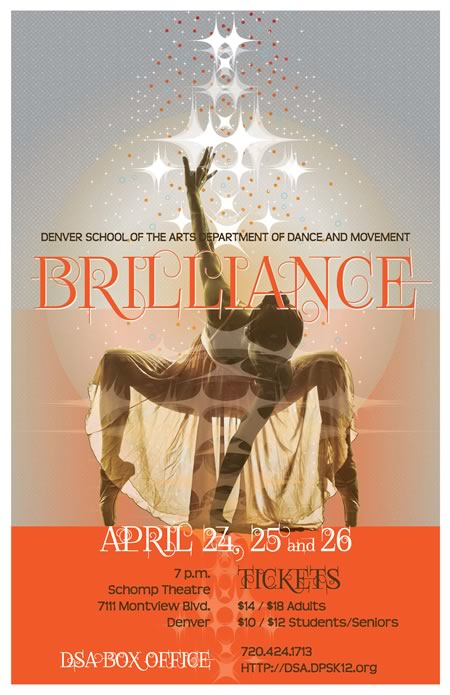 DANCE SPRING CONCERT
THURSDAY, April 24 – 7:00 pm
FRIDAY, April 25 – 7:00 pm
SATURDAY, April 26 – 7:00 pm
Kay Schomp Theatre
Adults: $18 for Orchestra/$14 for Mezzanine and Balcony
Students and Seniors: $12 for Orchestra/$10 for Mezzanine and Balcony

BRILLIANCE features the entire dance department performing the work of 17 resident and guest artists. From Flamenco to Vegas and Tap to Ballet, this concert has something for everyone!
SINCERELY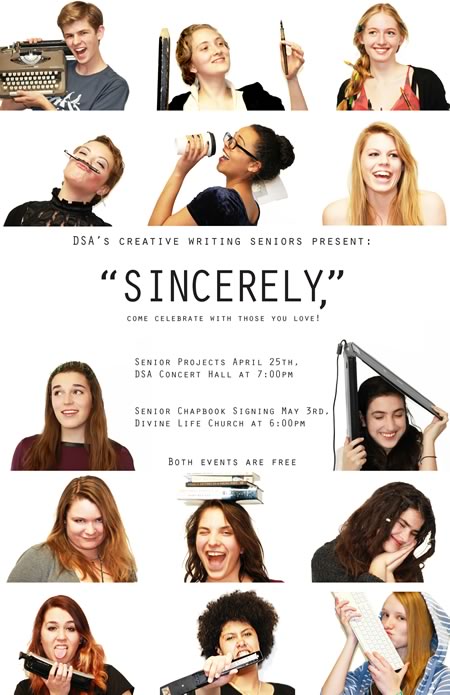 Creative Writing Senior Projects
FRIDAY, April 25th at 7:00 p.m.
DSA Concert Hall
FREE event
Please join the senior Creative Writers for the culminating events of their time at DSA. Each Senior Creative Writing student presents either a performance or installation project that exemplifies their work as writers, artists, and young adults bound for the next chapter in their lives.
************
SATURDAY, May 3rd at 6:00 p.m.
DIVINE LIFE CHURCH (14th and Williams)
FREE event
Join us for the Senior Chapbook Signing where each student will read from their chapbook. These special books will also be for sale for $6 each.
CONVERGENCE – The Senior Art Exhibit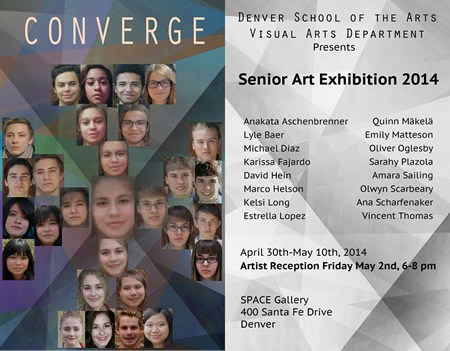 EXHIBIT from April 30th through May 10th
ARTIST RECEPTION on FRIDAY, May 2nd
6:00 to 8:00 pm
FREE event
The Senior Visual Arts Students are presenting their final projects in a professional gallery exhibit. This show features the art of Anakata Aschenbrenner, Lyle Baer, Michael Diaz, Karissa Fajardo, David Hein, Marco Helson, Kelsi Long, Estrella Lopez, Quinn Makela, Emily Matteson, Oliver Oglesby, Sarahy Plazola, Amara Sailing, Olwyn Scarbeary, Ana Scharfenaker, and Vincent Thomas. Come take a look at the art they are doing and be amazed!!
TOO MUCH LIGHT
Junior Theatre Majors Project

WEDNESDAY, April 30 at 4:00 pm
WEDNESDAY, April 30 at 6:00 pm
THURSDAY, May 1 at 4:00 pm
THURSDAY, May 1 at 6:00
FRIDAY, May 2 at 5:00 pm
FRIDAY, May 2 at 7:00 pm

DSA Black Box Theatre

A roll of the dice at the door of the theatre determines how much you pay to get in!!

60 minutes. 30 plays. Funny, touching, thought-provoking…..and you get to choose the order of the evening! You can only purchase tickets to this annual popular event AT THE DOOR! Your ticket price is determined by your roll of the dice – so it could be $7 or it could be $12 – fate will decide!
HIGH SCHOOL PIANO RECITAL
MONDAY, May 5 at 7:00 pm
TUESDAY, May 6 at 7:00 pm

DSA Concert Hall

Adults: $12
Students and Seniors: $10

VOCAL MUSIC FAREWELL CONCERT
Conducted by Rob Styron and Scott Shively

WEDNESDAY, MAY 7 at 7:00 pm

DSA Concert Hall

Adults: $12
Students and Seniors: $10

The groups performing at the Vocal Farewell Concert will include Bellissima, 4Squared, the Vocal Jazz Ensemble and the Chorale. The program will include an eclectic choral repertoire representing many cultures and genres.
Come honor the final work of the graduating senior Vocal majors and wish them well as they move to the next phase of their life.
Events in the DSA concert hall frequently sell out. Buy your tickets early to avoid missing this concert.
BAND LEADERS CONCERT
Conducted by Dave Hammond

THURSDAY, MAY 8 at 7:00 pm

DSA Concert Hall

Adults: $12
Students and Seniors: $10

This performance will feature all of the instrumental groups including the Concert Band, the Wind Ensemble, the Jazz Workshop Orchestra (both #1 and #2), the Chamber Orchestra and the Percussion Group. A final concert not to be missed!!!
Events in the Concert Hall frequently sell out. Avoid missing this concert by buying your tickets early.
DSA ORCHESTRA FAREWELL CONCERT
Conducted by Enrique Lazansky

FRIDAY, MAY 16 – 7:00 pm
SATURDAY, MAY 17 – 3:00 pm

DSA Concert Hall

Adults: $12
Students and Seniors: $10

On May 16th, the program will consist of orchestral music from Beethoven, Mozart and Dvorek and will feature the world premiere of REVERIE TWILIGHT SUMMER SUNSET, an original piece by DSA student composer Liam Ramsey-White. The Mozart pieces will feature student soloists Cianci Mello-Carillo on horn, Scott Chiu on clarinet, and Sarah Berger and Irene Katsenelson on viola.
On May 17th, the program will feature the Vanguard Student chamber ensemble performing Mendelssohn's Octet.
Events at the DSA Concert Hall frequently sell out. Please avoid disappointment by purchasing your tickets early.