The box office is located in Room A121 across from the Kay Schomp Theatre and is open for over-the-counter or phone ticket sales Weds-Fri from 1:00 – 4:00 pm. On line tickets can be purchased 24/7 but sales will cease two hours before each performance. Additionally, unless the performance is SOLD OUT, any remaining tickets can be purchased over-the-counter at the box office in the hour before each performance. For questions or assistance, the Box Office phone number is 720-424-1713.
PLEASE NOTE: AT SOLD OUT SHOWS, ALL TICKETS/SEATS NOT CLAIMED BY CURTAIN TIME WILL BE RELEASED AND RESOLD TO PATRONS WHO HAVE SIGNED IN FOR A WAITING LIST. PLEASE ARRIVE PROMPTLY!!
FIRST QUARTER VISUAL ARTS EXHIBIT
THURSDAY, October 11 – 6:00 pm
MAIN HALL
Starting on Thursday, October 11, the Visual Arts majors will put their summer work and first quarter projects on exhibit on the walls, galleries, and display boards of the Main Hall and Office Gallery for your enjoyment. Please take a moment to admire the work they have been doing and their unique forms of expression. You won't be disappointed. I mean – we've got paper shoes on display!! So cool!
JAZZ SYMPOSIUM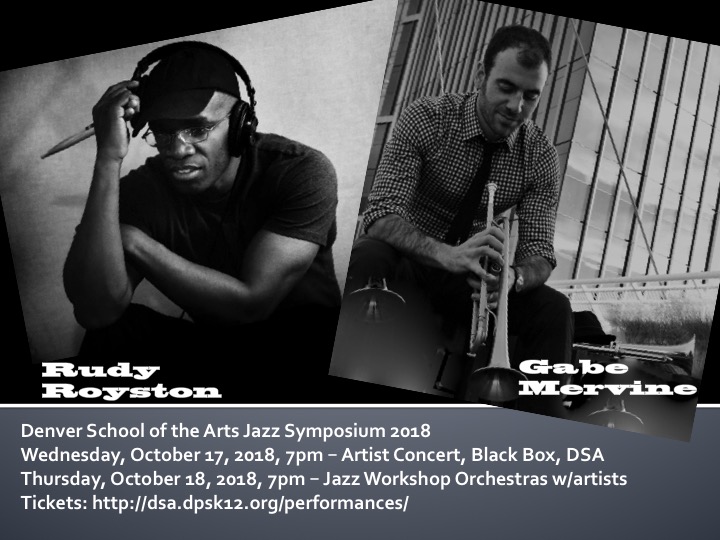 THURSDAY, October 18 – 7:00 pm
DSA Concert Hall
TICKETS: Adults – $17.00
Seniors – $12.00
Students – $10.00

Another exciting Jazz Workshop Orchestra groups performing with professional Jazz musicians. Gabe Mervine on the trumpet and Rudy Royston on the drums will be working with the students in the JWO this week which will culminate in a concert featuring four Jazz groups performing with the professionals. If you love jazz, this is the place to be!
THEATRE SCENE NIGHT
THURSDAY, October 25 – 6:00 pm
FRIDAY, October 26 – 6:00 pm
DSA Schomp Theatre
FREE EVENT
All Theatre majors participate in Scene Night for a fun evening of both dramatic and comedy theatrical scenes and musical numbers. Each class prepares a group number from a contemporary musical while smaller groups of two or three may also perform their favorite songs from Broadway shows. The students have been working with Guest Artists to prepare these works and illustrate where they all are at the beginning of the year. A FREE event – and a fun event – come join the fun.
There will be food provided before the event starts. Watch here for further information.

BAND SHOWCASE
THURSDAY, November 1 – 7:00 pm
DSA Concert Hall
TICKETS: Adults – $17.00
Seniors – $12.00
Students – $10.00

The first concert of the new school year for the Concert Band and the Wind Ensembles from the Band Department. In this program that blends classical with Latin rhythms, the Concert Band will be performing "The Cave You Fear" by Michael Markowski which is a suspenseful journey into the unknown and out of your comfort zone in celebration of the day after Halloween. This will be followed by "Anthem," a stirring piece by Claude T. Smith high in musical appeal that sparkles with vitality. The Wind Ensembles venture into "Danzon #2," a modern Mexican classic inspired by Cuban dance. This will be followed by Michael Gandolfi's "Vientos y Tangos," recalling the traditional sounds of tango while incorporating modern rhythms as well. The concert finishs with "The Children's March" by Percy Grainger (also known as "Over the Woods and Far Away'), a jaunty delightful miniature masterpiece by this Australian-born composer. What a great way to start the new season!

A LOOK BEHIND THE CURTAIN AT DANCE
FRIDAY, November 1 – 7:00 pm
SATURDAY, November 2 – 7:00 pm
DSA Dance Studio
TICKETS: Adults – $17.00
Seniors – $12.00
Students – $10.00

"A Look Behind the Curtain" is a showcase that will provide a look into the creative process and a inter-active experience for the audience. You will see new works created for the showcase, get a sneak peak into our Dance Ensembles, and even see some works still in progress. There will be a Question and Answer session after the showcase with audience participation. Its going to be two fun nights of great dance. Get your tickets today!
SILENT SKY
THURSDAY, November 8- 7:00 pm
FRIDAY, November 9 – 7:00 pm
SATURDAY, November 10 – 2:00 pm
SATURDAY, November 10 – 7:00 pm
DSA Black Box Theatre
TICKETS: Adults – $17.00
Seniors – $12.00
Students – $10.00

SILENT SKY tells the story of one of the many forgotten women in our history. Henrietta Levitt is a young astronomer who will not only touch your heart but will encourage contemplation as she questions where humans fit in the universe. Set in the early 20th century, it is a story of passion, ambition and dedication which will not only make you laugh (and maybe even cry), but empower you with her determination to take a different path in life. Don't miss out; get your tickets today!