The box office is located in Room A121 across from the Kay Schomp Theatre and is open for over-the-counter or phone ticket sales Weds-Fri from 1:00 – 4:00 pm. On line tickets can be purchased 24/7 but sales will cease two hours before each performance. Additionally, unless the performance is SOLD OUT, any remaining tickets can be purchased over-the-counter at the box office in the hour before each performance. For questions or assistance, the Box Office phone number is 720-424-1713.
PLEASE NOTE: AT SOLD OUT SHOWS, ALL TICKETS/SEATS NOT CLAIMED BY CURTAIN TIME WILL BE RELEASED AND RESOLD TO PATRONS WHO HAVE SIGNED IN FOR A WAITING LIST. PLEASE ARRIVE PROMPTLY!!
Upcoming Performances:
VISUAL ARTS 2ND QUARTER SHOW
OPENING – THURSDAY, December 7 – 6:00 pm
DSA MAIN HALL and OFFICE GALLERY
The Visual Arts Department 2nd Quarter Show will feature advanced portfolio work from Visual Arts jurors and seniors. In addition, we will display work created with the guidance of Guest Artists Tony Ortega and Martha Pinkard. On view in the Main Office Gallery through December are unique clay monotype prints by Colorado Springs artist Michael Cellan.
BAND WINTER CONCERT, DINNER AND SILENT AUCTION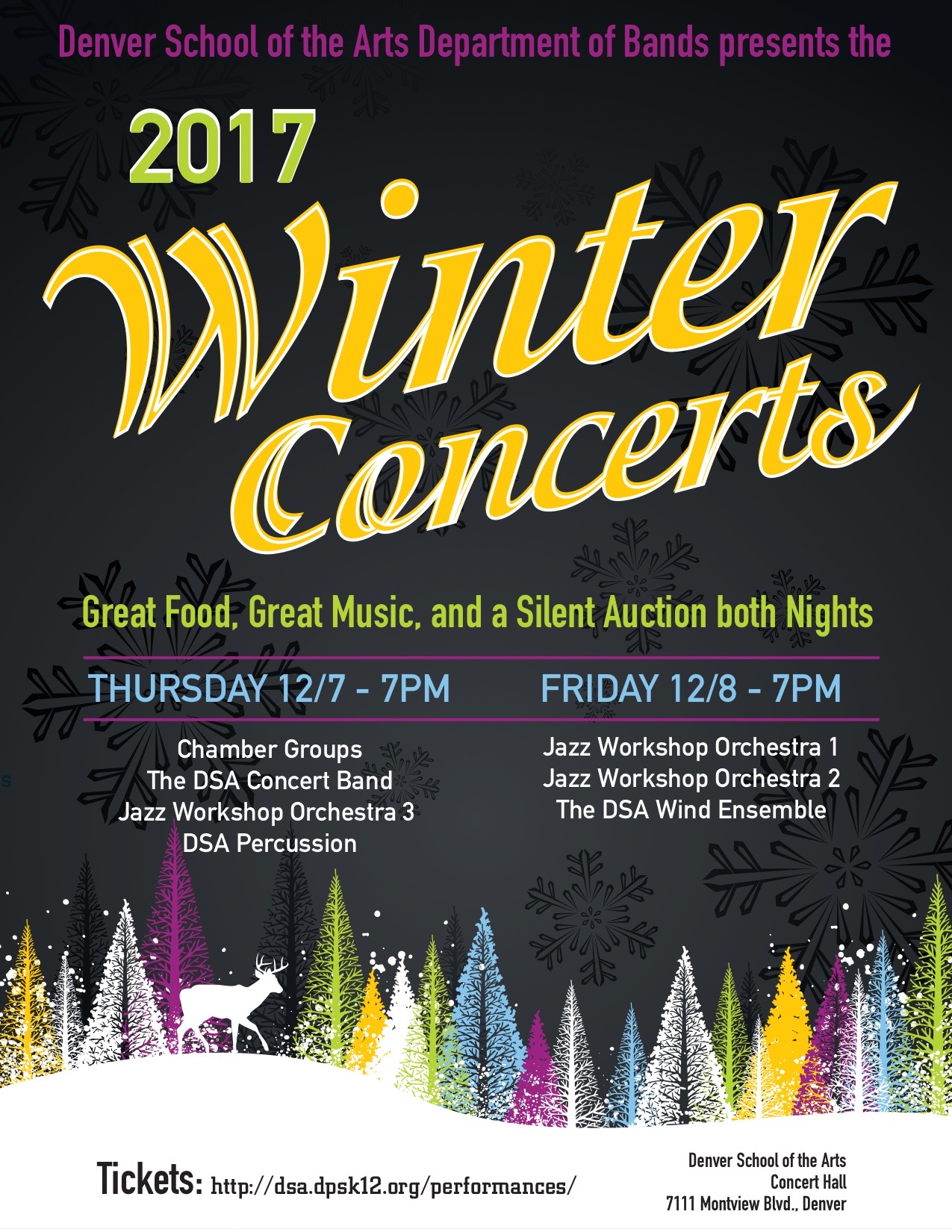 THURSDAY, December 7 – 7:00 pm (Italian Dinner Served at 6:00 pm)
FRIDAY, December 8 – 7:00 pm (Holiday Favorites served at 6:00 pm)
DSA at the Concert Hall
RESERVED TICKETS: Adults – $17.00
Seniors – $12.00
Students – $11.00

GREAT Music – GREAT food – GREAT Auction for great holiday gifts!! What more could you ask for?? Start the evening by browsing through the spectacular auction items while thinking about your Christmas gift list! Then wander back to the food tables where, on Thursday night, Italian dishes will be favored. On Friday night, the Band parents will be serving Family Holiday Favorites. Make up your mind what you are going to bid on before you enter the concert hall for all the GREAT music. On Thursday night, the Chamber groups will perform as well as the full DSA Concert Band, Jazz Workshop Orchestra #3 and the DSA Percussion groups. On Friday night, you'll be serenaded by both Jazz Workshop Orchestra #1 and #2 as well as the DSA Wind Ensemble members. Don't forget to check your bid at intermission to make sure you won the auction!
30 MINUTE PLAYS
MONDAY, December 11 – 4:00 – 6:00 pm
DSA SCHOMP THEATRE
FREE EVENT
This is an evening of plays based on Classic Children's Literature told in a shortened version. Come one, Come all to see the Theatre Majors do what they do best.
VIDEO CINEMA ARTS FALL FILM FESTIVAL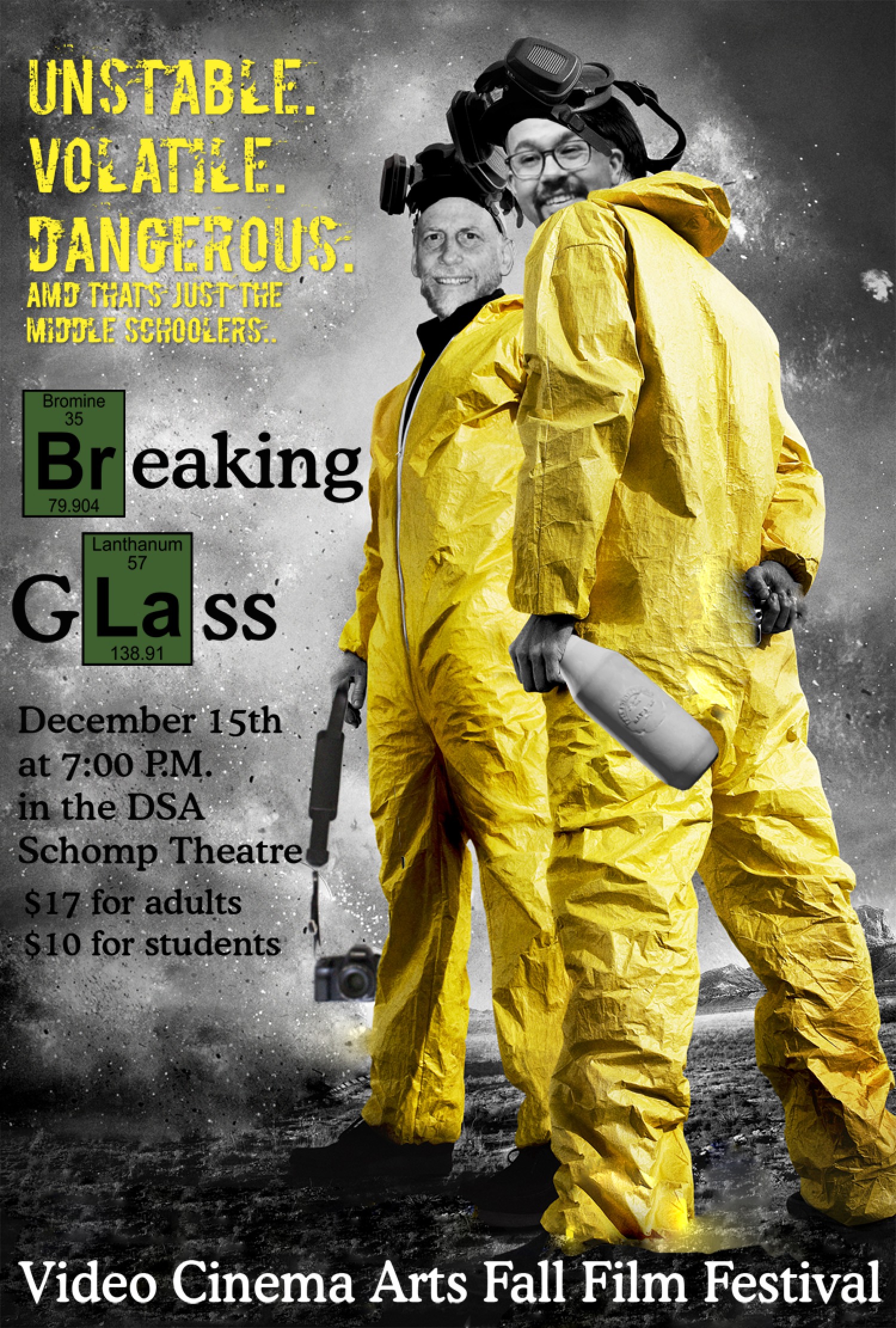 FRIDAY, December 15 – 7:00 pm
DSA at the Schomp Theatre
TICKETS: Adults – $17.00
Seniors – $13.00
Students – $10.00

An evening of film presented by our Middle and High School Video Cinema Arts Majors. The Middle School have been working on Animations and Live Action folk and fairy tales to share with you. The High School majors will be presenting music videos and short films that pay homage to their favorite people and events. All wrapped around a theme of "Breaking Glass."
WINTER ORCHESTRA CONCERT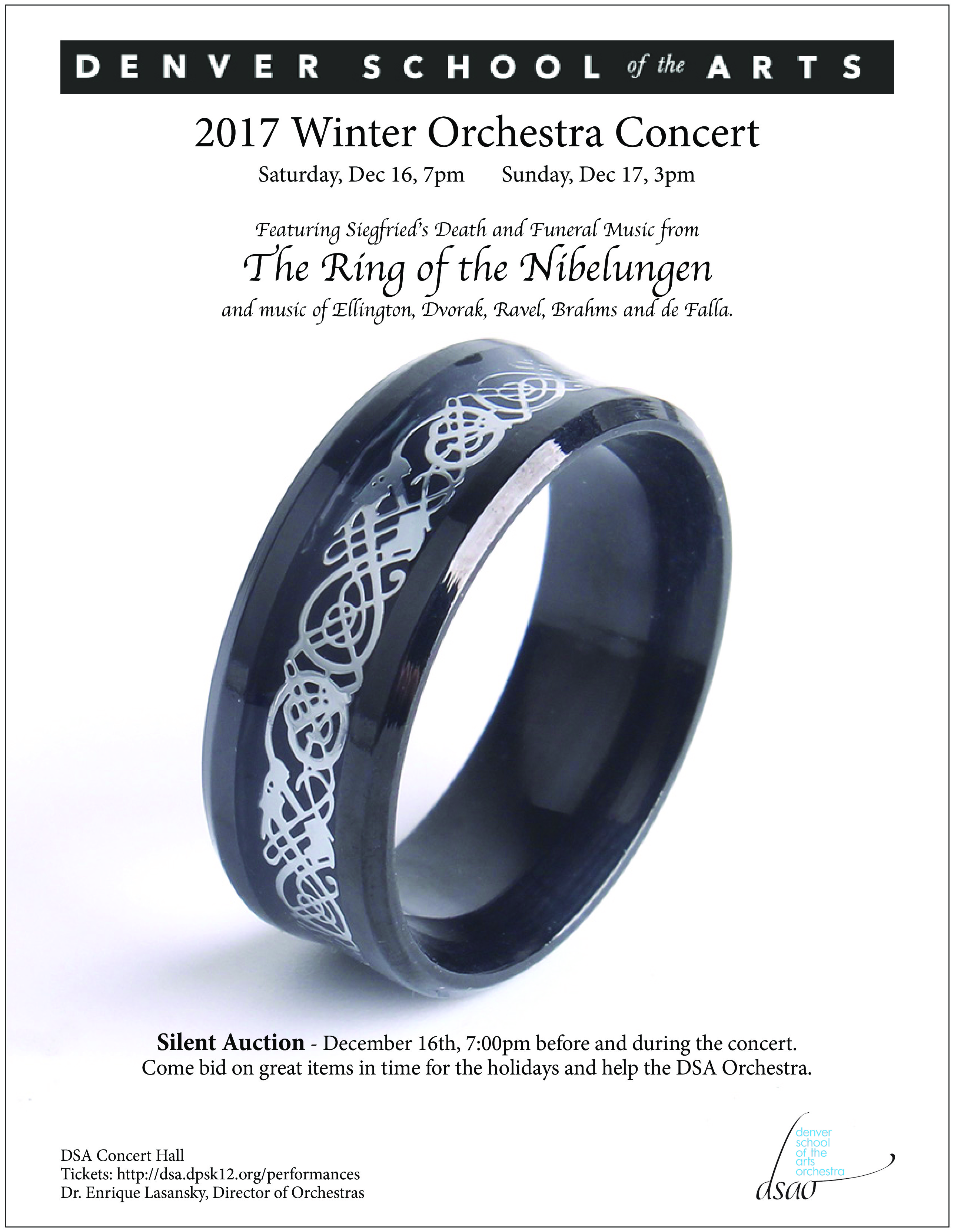 SATURDAY, December 16 – 7:00 pm (Italian Dinner Served at 6:00 pm)
SUNDAY, December 17 – 3:00 pm
DSA at the Concert Hall
RESERVED TICKETS: Adults – $17.00
Seniors – $12.00
Students – $11.00

An evening of food, fun and music is promised with this concert. On Saturday evening, the Orchestra Parents will be providing an Italian meal before the concert for $9 for adults and $7 for students. Plan on joining us for the festivities which will include a Silent Auction of items and activities appropriate for Holiday giving.
Then the music begins. The featured selection is from the Ring of the Nibelungen or, as more commonly known, The Ring Cycle. A four piece drama composed by Richard Wagner, Siegfried's Death and Funeral March is part of Act Three and marks the hero Siegfried's death at the hands of the treacherous Hagen. For a change of pace, the evening will also include music from Ellington, Dvorak, Ravel and Brahms to round out the concert.