The box office is located in Room A121 across from the Kay Schomp Theatre and is open for over-the-counter or phone ticket sales Weds-Fri from 1:00 – 4:00 pm. On line tickets can be purchased 24/7 but sales will cease two hours before each performance. Additionally, unless the performance is SOLD OUT, any remaining tickets can be purchased over-the-counter at the box office in the hour before each performance. For questions or assistance, the Box Office phone number is 720-424-1713.
PLEASE NOTE: AT SOLD OUT SHOWS, ALL TICKETS/SEATS NOT CLAIMED BY CURTAIN TIME WILL BE RELEASED AND RESOLD TO PATRONS WHO HAVE SIGNED IN FOR A WAITING LIST. PLEASE ARRIVE PROMPTLY!!
Upcoming Performances:
SPELLING BEE BENEFIT PERFORMANCE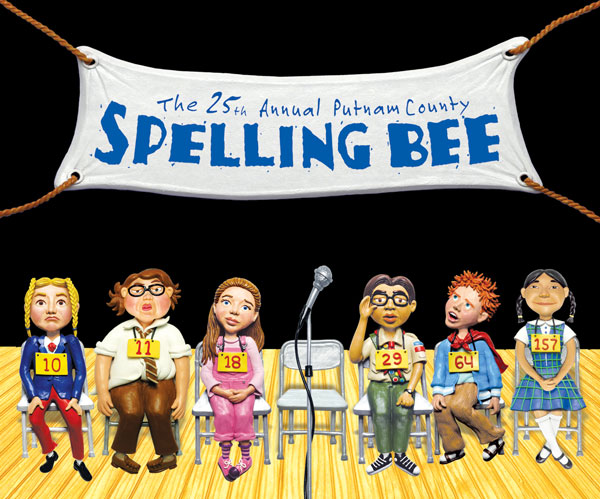 SATURDAY, JUNE 23 – 4:00 PM (the Pink cast)
CATERED DINNER and SILENT AUCTION BETWEEN SHOWS
SATURDAY, JUNE 23 – 7:00 PM (the Purple cast)
DSA Schomp Theatre
TICKETS: $50.00 for both shows and dinner

Please join us for THE 25TH ANNUAL PUTNAM COUNTY SPELLING BEE benefit performance, dinner and silent auction! This is your last chance to see either or both casts perform before they head off to the International Thespian Festival in Lincoln, Nebraska where they have been selected to perform on the Main Stage. All proceeds from the benefit evening go directly toward the costs associated with bringing the show to the festival.
Choose either the 4:00 seating to see the Pink cast or the 7:00 seating to see the Purple cast and you're invited to both performances and the catered dinner between shows. Come early – come late – buy one ticket to see both shows and enjoy dinner!
Check out the fabulous silent auction that will only be available between shows! Prizes so far include Private Audition/Monologue Coaching; Signed Broadway Production Programs; Photo Sessions; Bronco Tickets; Gift Certificates and so much more!
See the future 2020 Tony winners perform now so you can say "I knew them when . . . "
SHREK
Directed by Shawn Hann
THURSDAY, September 13 – 7:00 pm
FRIDAY, September 14 – 7:00 pm
SATURDAY, September 15 – 7:00 pm
SUNDAY, September 16 – 3:00 pm
THURSDAY, September 20 – 7:00 pm
FRIDAY, September 21 – 7:00 pm
SATURDAY, September 22 – GALA TICKETS AVAILABLE THROUGH THE DSA FOUNDATION
SUNDAY, September 23 – 3:00 pm
DSA Schomp Theatre
TICKETS: Adults – $23 Orchestra – $19 Balcony
Seniors and Students – $17 Orchestra – $15 Balcony

Based on the Oscar-winning DreamWorks Animation film, SHREK THE MUSICAL is a Tony Award-winning fairy tale adventure. SHREK brings all the beloved characters you know from the film to life on stage and proves there's more to the story than meets the ears. "Once upon a time, there was a little ogre named Shrek…." And thus begins the tale of an unlikely hero who finds himself on a life-changing journey alongside a wisecracking Donkey and a feisty princess who resists her rescue. Throw in a short-tempered bad guy, a cookie with an attitude and over a dozen other fairy tale misfits, and you've got the kind of mess that calls for a real hero. Luckily, there's one on hand… and his name is Shrek.
SHREK presents a treasure trove of irreverent fun for the whole family and proves that beauty is truly in the eye of the ogre. The All School Musical always sells out so get your tickets early before they are gone.