The box office is located in Room A121 across from the Kay Schomp Theatre and is open for over-the-counter or phone ticket sales Weds-Fri from 1:00 – 4:00 pm. On line tickets can be purchased 24/7 but sales will cease three hours before each performance. Additionally, unless the performance is sold out, available tickets can be purchased over-the-counter at the box office in the two hours before each performance. For questions or assistance, the Box Office phone number is 720-424-1713.
PLEASE NOTE: AT SOLD OUT SHOWS, ALL TICKETS/SEATS NOT CLAIMED BY CURTAIN TIME WILL BE RELEASED AND RESOLD TO PATRONS WHO HAVE SIGNED IN FOR A WAITING LIST. PLEASE ARRIVE PROMPTLY!!
Upcoming Performances:
VISUAL ARTS FALL EXHIBIT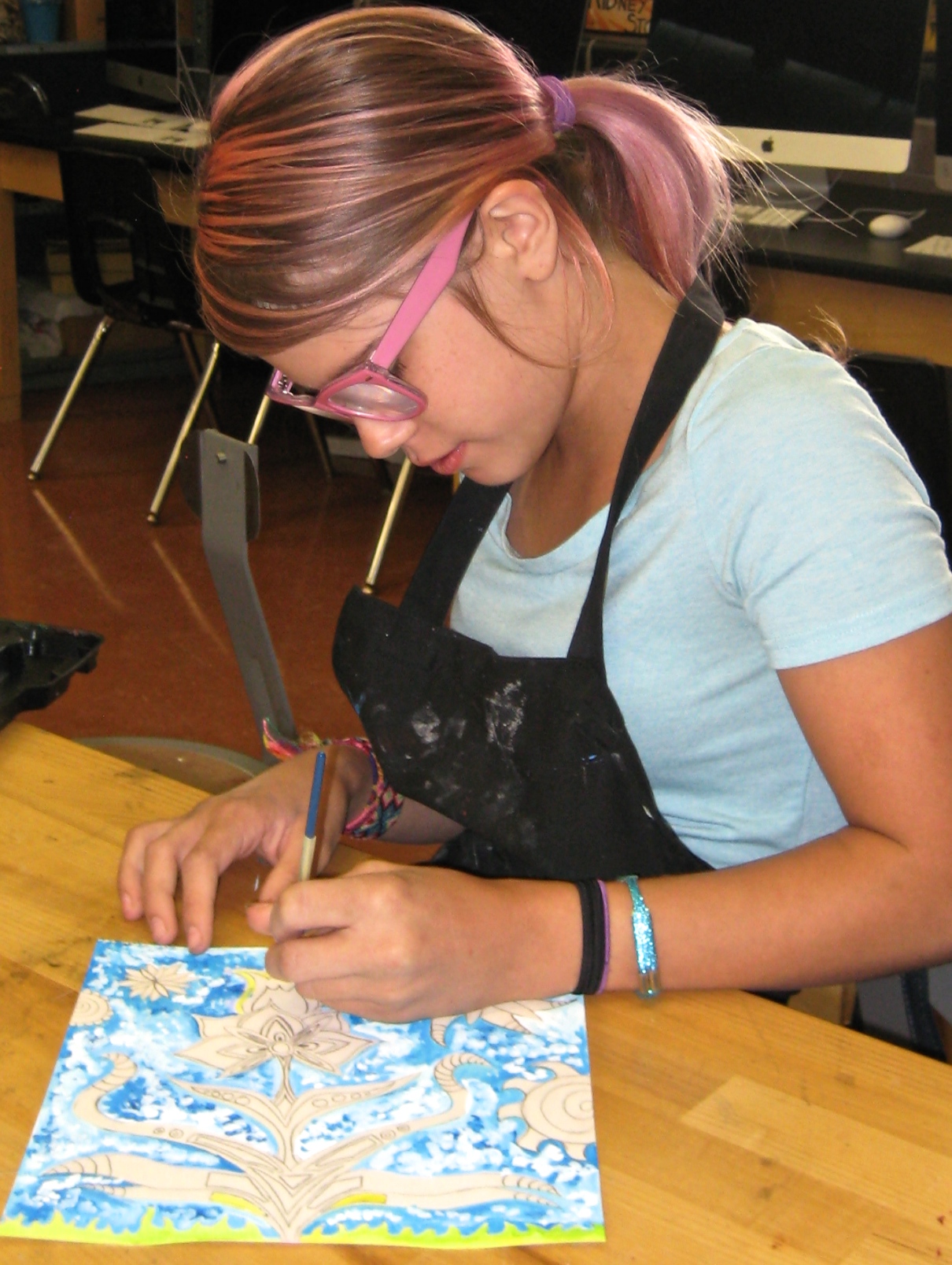 THURSDAY, October 13 – 6:00 pm – 7:30 pm
DSA MAIN HALL
The Visual Arts Department will open its 1st Quarter Show on this evening. It will feature drawings, paintings and miniature "modernist" chairs. Our 8th graders have created Iznik style tile patterns in their study of Islamic Arts. Most of the art will stay in place for several weeks so next time you are at DSA, check out the amazing art pieces by our talented Visual Arts majors.
JAZZ BAND SYMPOSIUM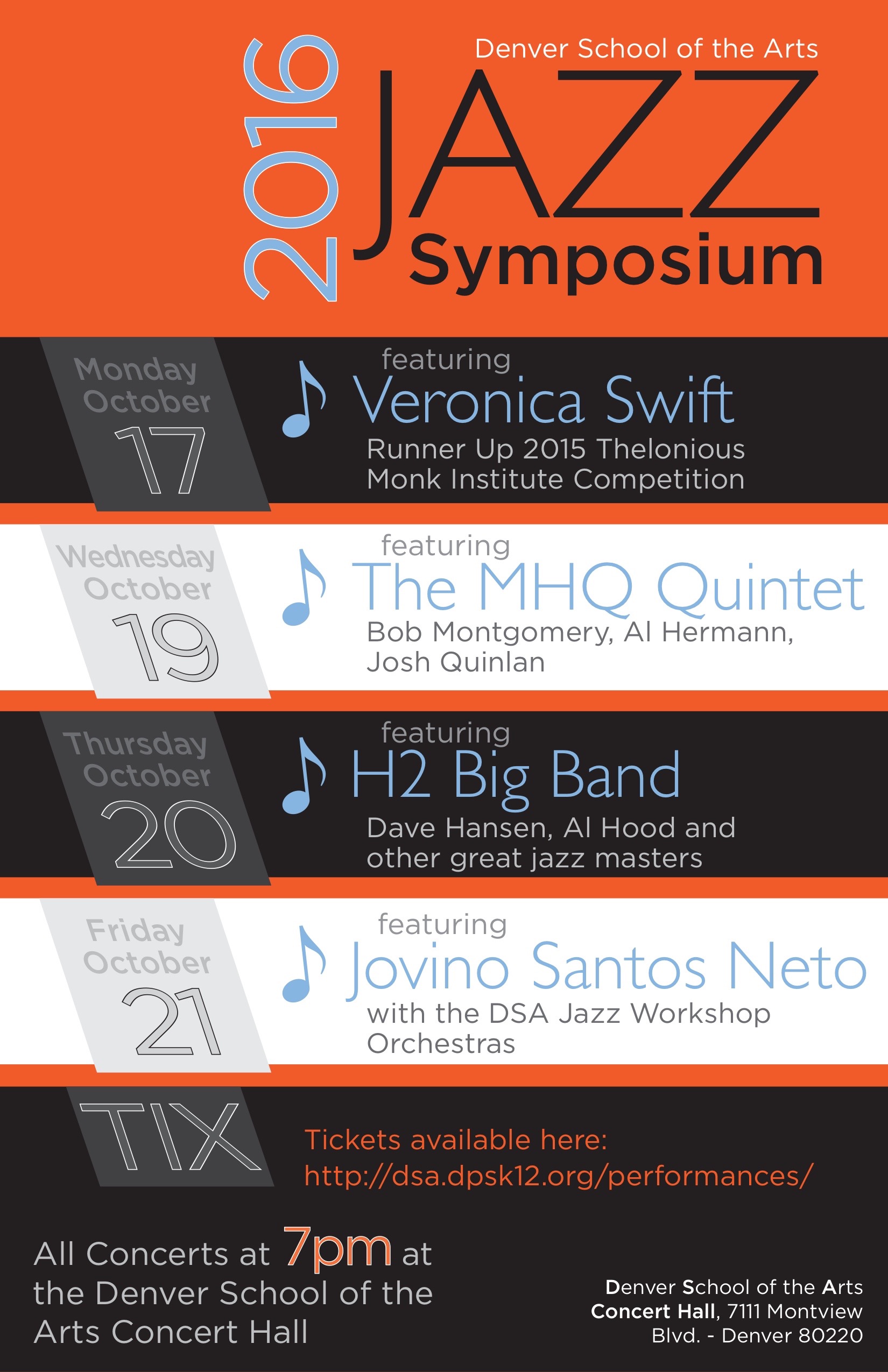 THURSDAY, October 20 – 7:00 pm
The H2 BIG BAND is here! This is a big band of amazing local and national talent directed by pianist Dave Hansen and trumpeter Al Hood in a tremendous evening of originals and arranged standards. This will be an amazing evening of music.
FRIDAY, OCTOBER 21 – 7:00 pm
THE JAZZ WORKSHOP ORCHESTRAS takes over the stage with guest Brazilian Jazz artist JOVINO SANTOS NETO! Three bands and three great groups of hard working students of swing and Brazilian flair providing great arrangements of the best in big bands past. Echoes of Duke Ellington, Fletch Henderson and Count Basie mixed with the exciting influence of the music of Jovino Santos Neto. You will not be disappointed with this great night of music.
DSA CONCERT HALL
GENERAL ADMISSION FOR EACH EVENING:
ADULTS: $14.00
STUDENTS/SENIORS: $10
An amazing week of Jazz music for your student's enlightenment and your listening enjoyment. Come one night – come all nights!! Not to be missed!

RETURNING – Fall Dance Concert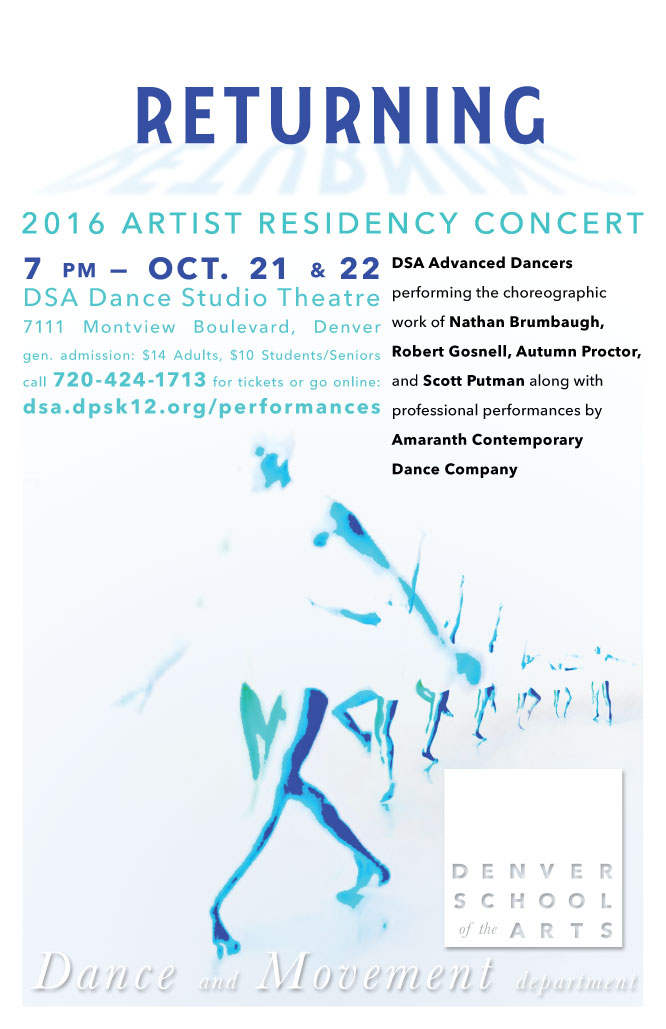 FRIDAY, October 213 – 7:00 pm
SATURDAY, October 22 – 7:00 pm
DSA DANCE STUDIO THEATRE
TICKETS: Adults – $14
Students/Seniors – $10

Please join us in welcoming The Amaranth Contemporary Dance Company for their annual residency at The Denver School of the Arts. Under the direction of Artistic Director Scott Putman, Professor of Dance at Virginia Commonwealth University, Amaranth brings a unique form of contemporary dance to the DSA Dance Studio Theater. Rounding out the evening will be works set on the Advanced Dance Majors by members of Amaranth and their special guests. This is a must see event for lovers of modern and contemporary dance!
THE REST IS SILENCE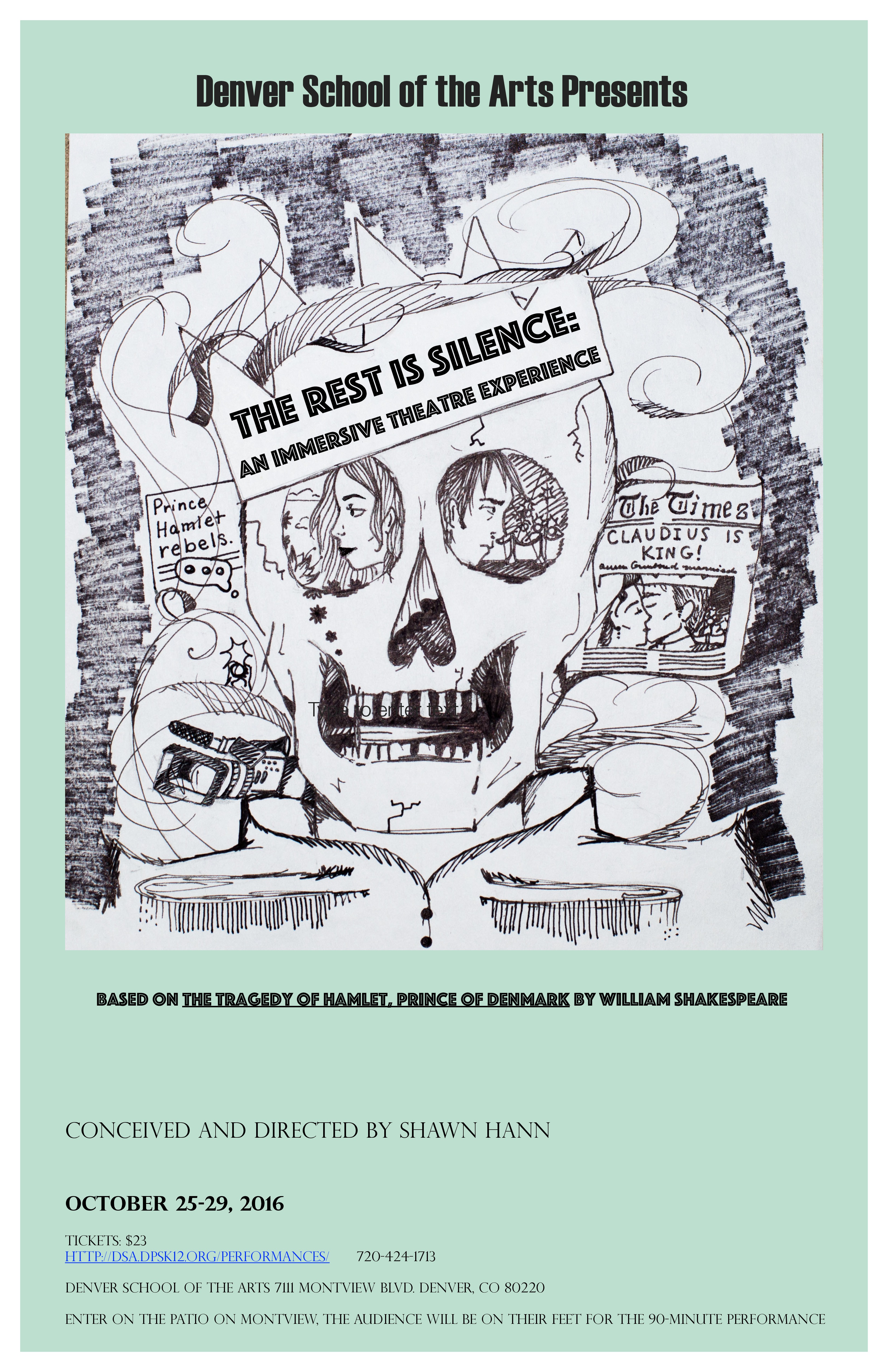 Conceived and Directed by Shawn Hann
TUESDAY, October 25 – 7:00 pm
WEDNESDAY, October 26 – 7:00 pm
THURSDAY, October 27 – 8:00 pm
FRIDAY, October 28 – 7:00 pm
FRIDAY, October 28 – 9:00 pm
SATURDAY, October 29 – 7:00 pm
SATURDAY, October 29 – 9:00 pm
SEVEN LOCATIONS THROUGHOUT THE SCHOOL
GENERAL ADMISSION: All tickets – $23.00

Join us for this unique experience! An abbreviated version of Shakespeare's HAMLET will be given new life as the audience follows the lead characters on their journey through this turbulent tale. With the help of a guide, you will move through the "castle" with them from the parapets to the throne room as they tell the story from their personal point of view. From the discovery of the ghost to the final swordfight, this is Shakespeare as you have never seen it.
The audience will enter from the patio door on the south side (off Montview) of the school to begin your journey. Each audience member will receive a mask and must wear it throughout the evening. Comfortable shoes will be best as you will be standing and walking as well as moving up and down stairs for the full 90 minutes of the show. You didn't really expect the same old HAMLET from our creative Theatre Department, did you?
THEATRE SCENE NIGHT
WEDNESDAY, November 2 – 6:00 pm
THURSDAY, November 3 – 6:00 pm
SCHOMP THEATRE
FREE EVENT
An evening featuring ALL of DSA's Theatre Majors from grade 6-12 performing in musical numbers and scenes from their favorite shows. While the group musical numbers are the same both evenings, different scenes will be presented on each night. Come both nights and see a different show each night!!
FALL BAND SHOWCASE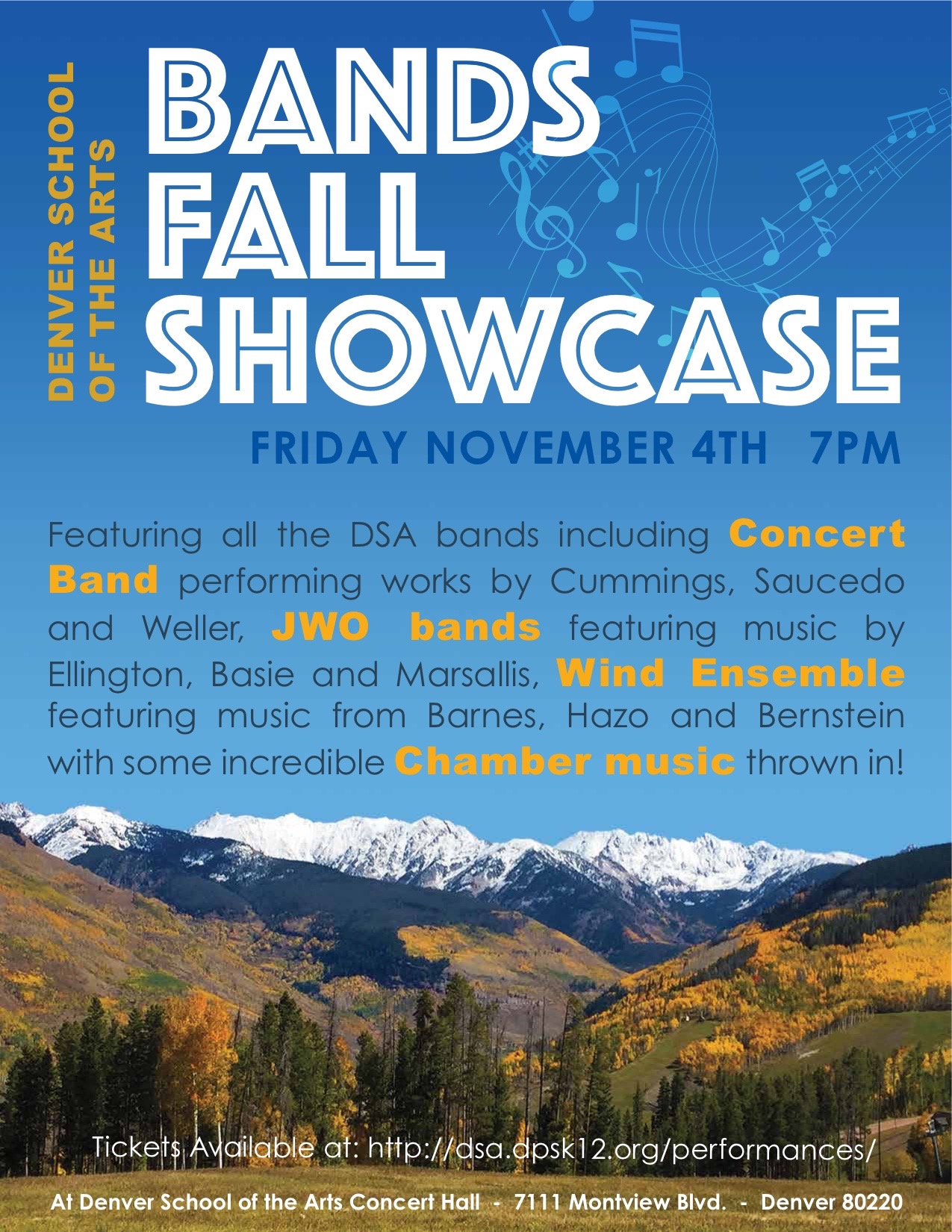 FRIDAY, November 4 – 7:00 pm
DSA CONCERT HALL
TICKETS: Adults – $14
Students/Seniors – $10

This Showcase event features all the talented members of all of the Band groups. The Concert Band will start the evening with works by Cummings, Saucedo and Weller to be followed by the Jazz Workshop Orchestra bringing in the modern sounds of Ellington, Basie and Marsalis. The Wind Ensemble will entertain with the music of Barnes, Hazo and Bernstein with a little extra Chamber music thrown in for good measure. A true mixed bag for all types of music lovers.
Concert Hall events fill up quickly – so buy yours now!!
THE BEAUTY QUEEN OF LEENANE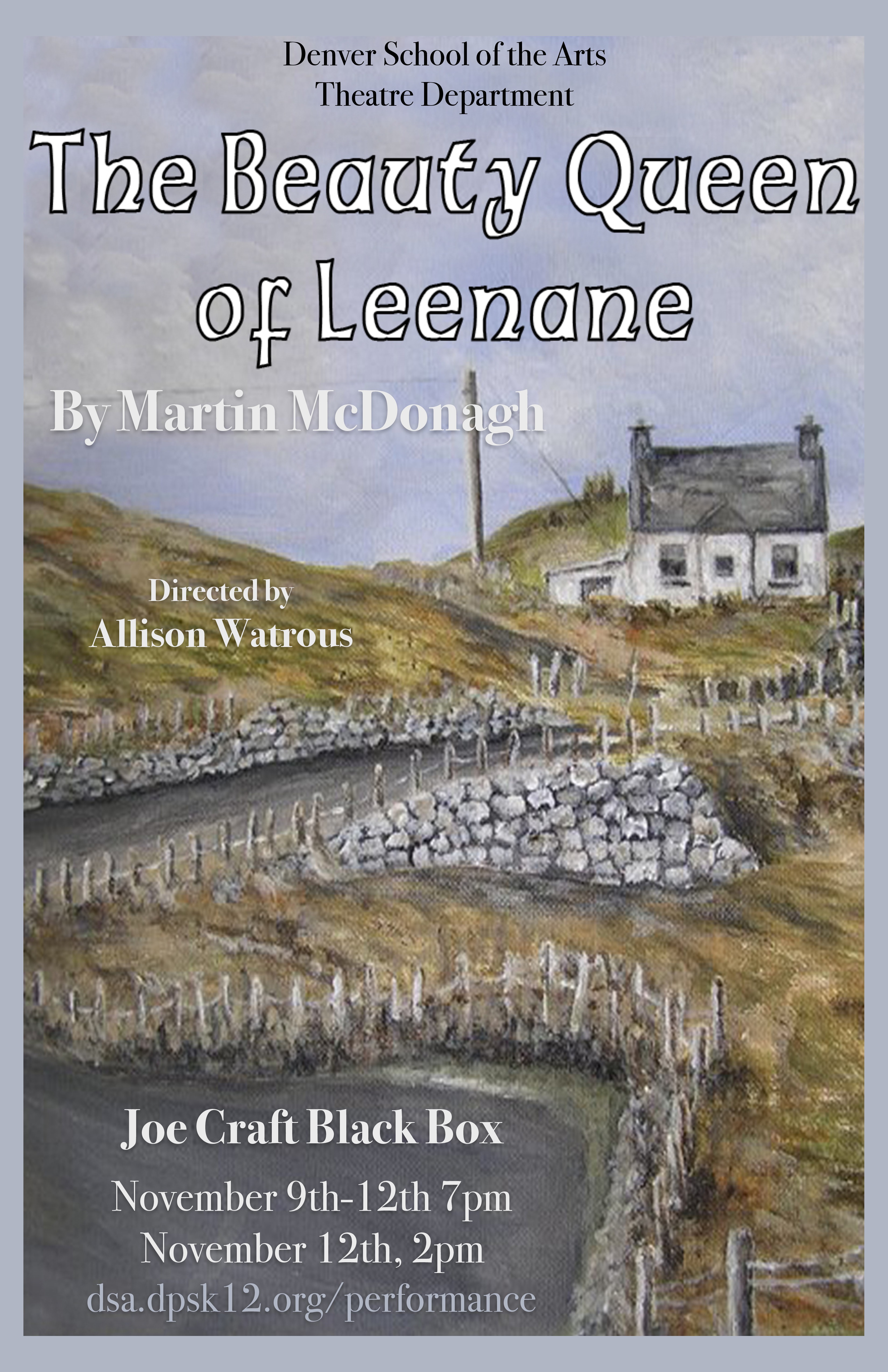 Written by Martin McDonagh
Directed by Allison Watrous
WEDNESDAY, November 9 – 7:00 pm
THURSDAY, November 10 – 7:00 pm
FRIDAY, November 11 – 7:00 pm
SATURDAY, November 12 – 2:00 pm
SATURDAY, November 12 – 9:00 pm
BLACK BOX THEATRE
GENERAL ADMISSION: Adults: $14
Students and Seniors: $10

Irish playwright Martin McDonagh writes this black comedy about the bleak lives of his countrymen near Leenane in County Connemara. A plain and lonely woman in her forties with her first and possibly last chance at love fights with her manipulative mother who is afraid to be alone if her daughter marries and leaves.