The box office is located in Room A121 across from the Kay Schomp Theatre and is open for over-the-counter or phone ticket sales Weds-Fri from 1:00 – 4:00 pm. On line tickets can be purchased 24/7 but sales will cease three hours before each performance. Additionally, unless the performance is sold out, available tickets can be purchased over-the-counter at the box office in the two hours before each performance. For questions or assistance, the Box Office phone number is 720-424-1713.
PLEASE NOTE: AT SOLD OUT SHOWS, ALL TICKETS/SEATS NOT CLAIMED BY CURTAIN TIME WILL BE RELEASED AND RESOLD TO PATRONS WHO HAVE SIGNED IN FOR A WAITING LIST. PLEASE ARRIVE PROMPTLY!!
Upcoming Performances:
THE YELLOW WALLPAPER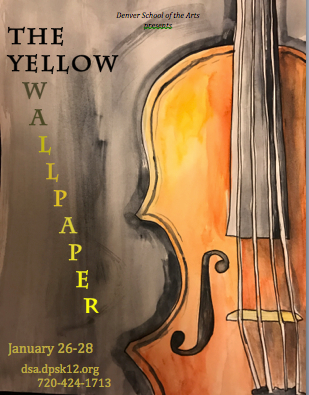 THURSDAY, January 26 – 7:00 pm
FRIDAY, January 27 – 7:00 pm
SATURDAY, January 28 – 2:00 pm
SATURDAY, January 28 – 7:00 pm
KAY SCHOMP THEATRE
TICKETS: All tickets $15.00

THE YELLOW WALLPAPER is a World Premiere production based on the short story by Charlotte Perkins Gilman. Using the classic American Gothic thriller as its base, THE YELLOW WALLPAPER explores the plight of a woman confined to a room for her health as she becomes obsessed with the wallpaper that surrounds her. When she discovers a small journal hidden in the wall, the past and the present begin to merge in ways both mysterious and unexpected.
On Friday, January 27 Audio Description will be available at the performance for patrons who are visually impaired.
PIANO ENSEMBLE RECITAL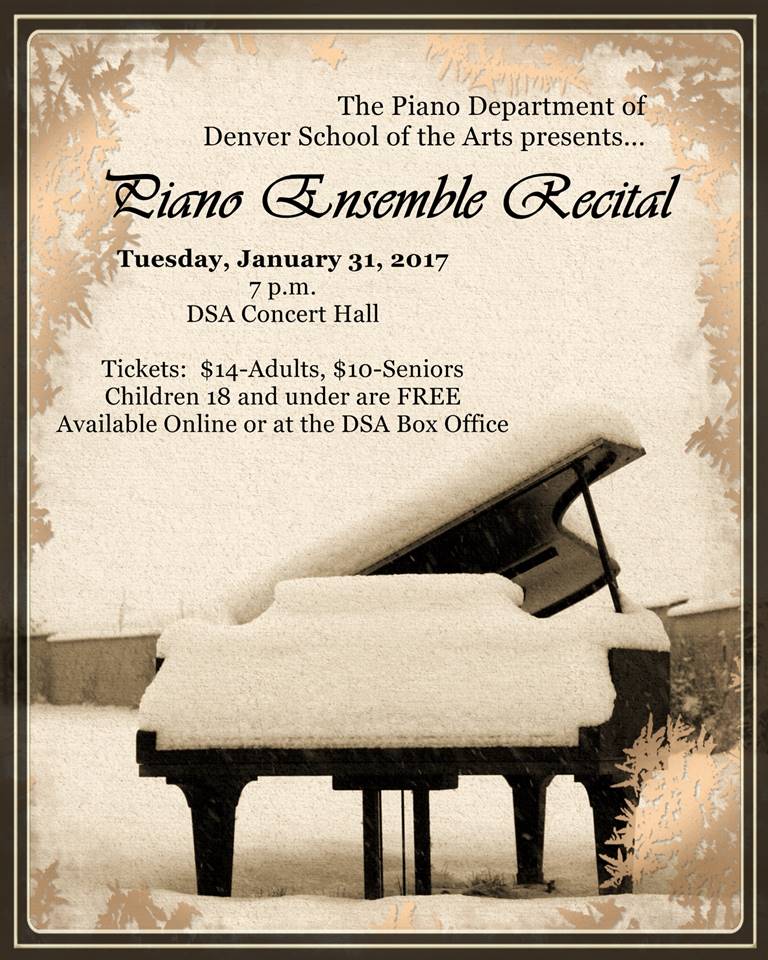 TUESDAY, January 31 – 7:00 pm
DSA CONCERT HALL
TICKETS: Adults – $14
Seniors – $10
Children under 18 – FREE

This is an "Ensemble" recital which means all the pieces performed will be either duets or duos (One Piano, Four Hands or Two Pianos, Four Hands). A lively mix of classical pieces and a stylistic mix of Jazz, Ragtime, Pop, and Folk.
CREATIVE WRITING OPEN MIC NIGHT
THURSDAY, February 2 6:00 pm
DSA COMMONS AREA
FREE EVENT
POTLUCK DINNER FEATURED BEFORE EVENT: $6 for Potluck – $3 for Ice Cream Dessert Bar – $7 for both
Don't miss the DSA Middle School Creative Writing Open-Mic Night and Improv Comedy Showdown. While this event is a fundraiser for both the Creative Writing Department and DSA Thespians, it is also a Battle of Words between the Student's Improv Team versus a team of Staff and Guest Improv Artists. Come enjoy the Improv Insanity for free. The fundraising part is the magnificent Potluck Dinner beforehand starting at 5:30 for $6. For an additional $3, you can include the Ice cream dessert bar. Best of all, the Dinner and Dessert Combo is only $7 each. You can't take the family out to eat for that. Join us for dinner and people acting silly!!

THE LEARNED LADIES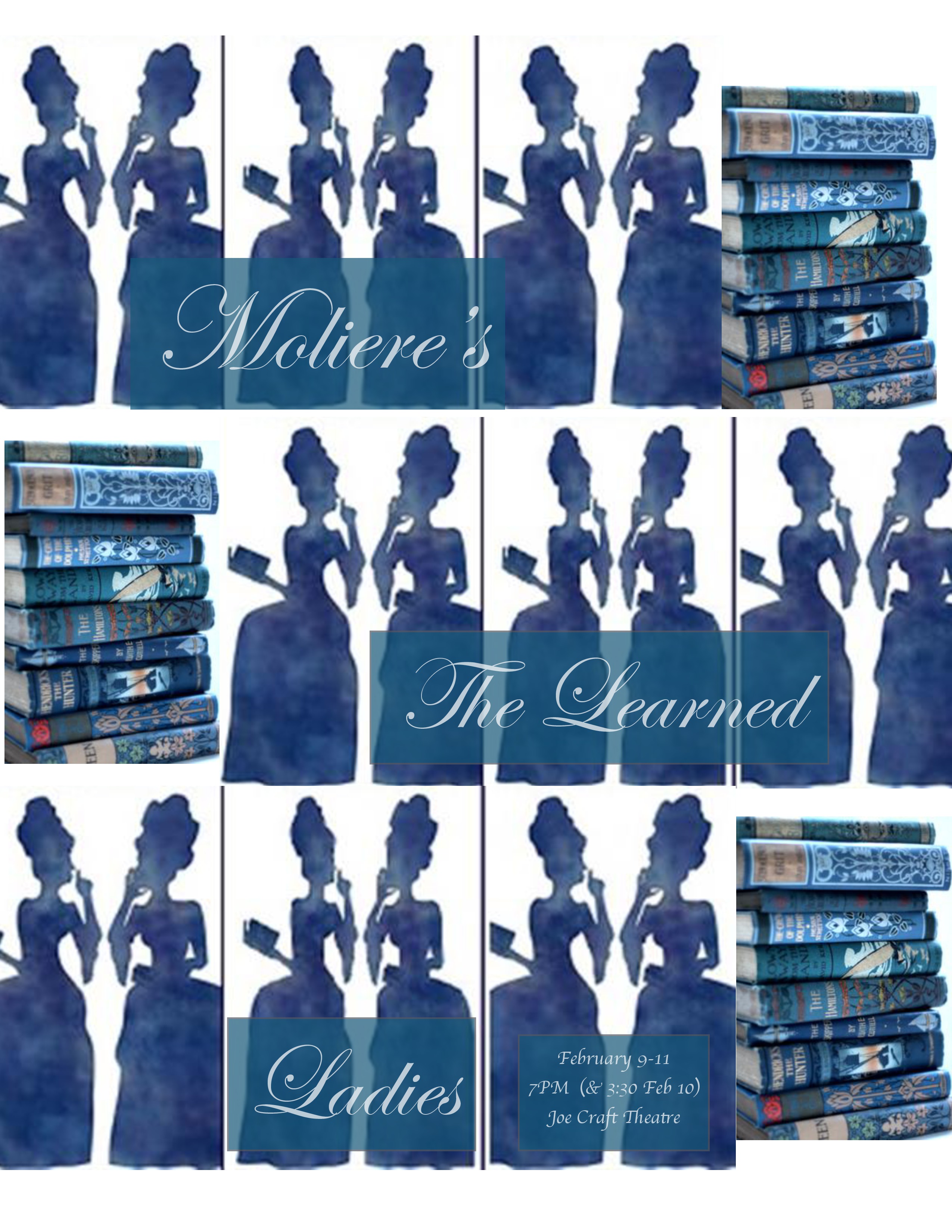 THURSDAY, February 9 – 7:00 pm
FRIDAY, February 10 – 3:30 pm
FRIDAY, February 10 – 7:00 pm
SATURDAY, February 11 – 7:00 pm
KAY SCHOMP THEATRE
TICKETS: Adults: $14.00
Students/Seniors: $10.00

Written late in Moliere's career, LEARNED LADIES is one of his most popular and most produced scripts. Most of his plays ridicule the pretentious and ignorant in society with his particular targets in this play being those impressed with Education without having any of their own. Two young lovers wish to get married but must gain the permission of both her father and mother. Her father likes the young man and approves. But her mother, her aunt and her sister – the so-called "Learned Ladies" of the title – do not approve of the proposed bridegroom because he is not a "scholar" in their point of view. As usual with Moliere, the honorable characters prevail through trickery and common sense and the pretentious and foolish are put in their place. Getting there is all the fun.

TELLING STORIES – WHAT'S REALLY GOING ON?
FRIDAY, February 10 – 7:00 pm
DSA SCHOMP THEATRE
TICKETS: Adults – $14
Students/Seniors – $12

Telling Stories is an annual collaborative art event featuring Band, Creative Writing, Guitar and Stagecraft students along with Visual Art Majors. This work challenges students in diverse disciplines to work together toward the creation of an original performance based art piece. This year's theme is: What's Really Going On?
INFINITE – Dance Senior Projects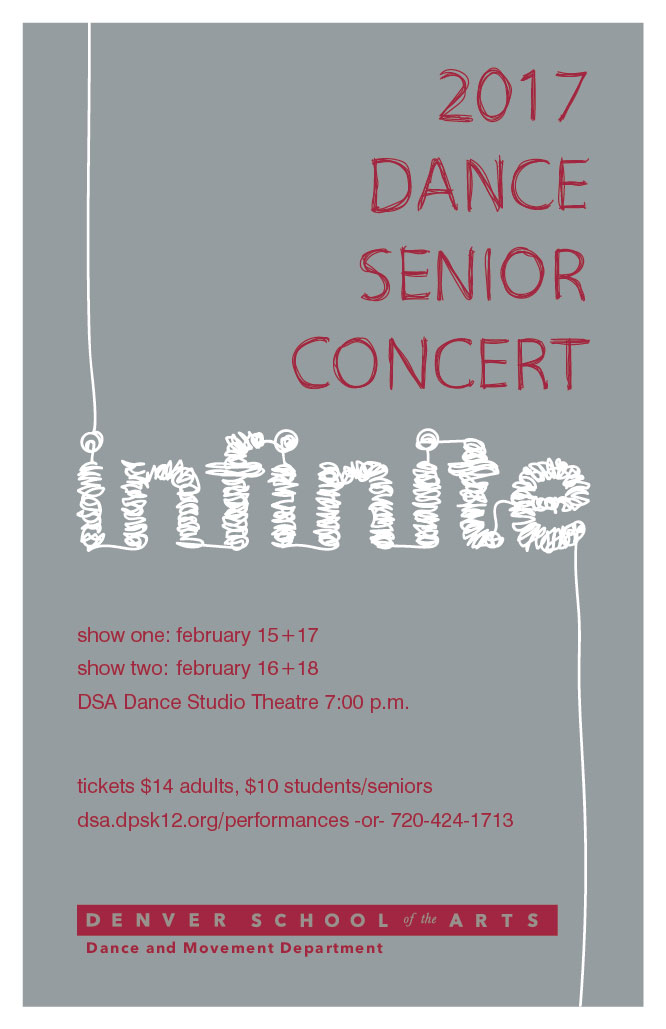 WEDNESDAY, February 15 – 7:00 pm (Show One)
THURSDAY, February 16 – 7:00 pm (Show Two)
FRIDAY, February 17 – 7:00 pm (Show One)
SATURDAY, February 18 – 7:00 pm (Show Two)
DSA DANCE STUDIO
TICKETS: Adults – $14
Students/Seniors – $10

Please join the DSA Dance community in celebrating the creative artistry of the 13 members of the Class of 2017. Presenting both group and solo dances, the senior class, along with all the DSA Advanced Class Dancers, has crafted two full concerts that are not to be missed! As their culminating collaborative project, the Class of 2016 is full of INFINITE possibilities.
WHAT YOU OWN
FRIDAY, February 17 – 7:00 pm
SATURDAY, February 18 – 7:00 pm
KAY SCHOMP THEATRE
TICKETS: For Performance Only: All seats $15.00
For Performance and Preshow Dinner: $25.00

This evening celebrates the rich and enlightening diversity of our school's culture by combining the talents of students in Theatre, Creative Writing, Music, Dance and Stagecraft. In a story written by Sequoiah Hippolyte (Theatre), Sophie Krupenszky (Theatre) and Sydney Gabrielle Mayes (Creative Writing), the script follows the journey of a young Black girl as she connects to her ancestral artistic roots beyond what she is being taught in school. The full length play offers insight into the rich contributions made by African-Americans into our country's history, literature, art and music.
Not only is this an evening not to be missed for the artistic and historical value, but you can have dinner to go along with it. A Southern menu will provide Fried Chicken with all the fixin's for only $10 before the show. All dinner reservations must be made by February 12th for planning by our caterer. Buy your tickets now – you won't want to miss this. Think how sorry you'll be when you smell that fried chicken on the day of the show!!