The box office is located in Room A121 across from the Kay Schomp Theatre and is open for over-the-counter or phone ticket sales Weds-Fri from 1:00 – 4:00 pm. On line tickets can be purchased 24/7 but sales will cease three hours before each performance. Additionally, unless the performance is sold out, available tickets can be purchased over-the-counter at the box office in the two hours before each performance. For questions or assistance, the Box Office phone number is 720-424-1713.
PLEASE NOTE: AT SOLD OUT SHOWS, ALL TICKETS/SEATS NOT CLAIMED BY CURTAIN TIME WILL BE RELEASED AND RESOLD TO PATRONS WHO HAVE SIGNED IN FOR A WAITING LIST. PLEASE ARRIVE PROMPTLY!!
Upcoming Performances:
THE BOURGEOIS GENTLEMAN
FRIDAY, February 24 – 7:00 pm
SATURDAY, February 25 – 3:30 pm
SATURDAY, February 25 – 7:00 pm
DSA BLACK BOX THEATRE
TICKETS: Adults: $14.00
Students/Seniors: $10.00

Moliere's unflinching arrogance in pointing out the foibles of people and classes of people who tried to put themselves above others not only kept his productions and his personal reputation in jeopardy, it also garnered unwanted attention from powerful men. His piece – THE BOURGEOIS GENTLEMAN – is said to be a parody of a Court figure who had arranged the arrest of one of Moliere's colleagues. He writes of a man so devoted to social climbing that he continually makes a fool of himself to the embarrassment of his family. He takes lessons in the "arts" which he thinks will help him advance – fencing, dancing, music and philosophy, while his well-paid teachers laugh at him. Once again, through trickery and appealing to the vanity of the Gentleman, his family achieves their goal of teaching him a lesson.
If you plan on coming to the show on Friday evening, plan on having dinner with the show. A tasty French feast awaits you with crusty croissants, chocolate mousse, fresh fruit, sparking wine (grape juice) and other treats. A small donation will get you in the mood for Moliere. C'est magnifique!!
VCA STUDENT PREMIERE
TUESDAY, February 28 – 7:00 pm
SIE FILM CENTER – 2510 East Colfax Avenue
TICKETS: FREE EVENT
The VCA department is proud to announce that seven student films received recognition in the "Film and Animation" category of the 2017 Scholastic Art Awards of Colorado competition! All of the award winning films will be screened in a FREE event at the Sie Film Center. The evening will feature the following films: "TRANSaction: Stepping out of the closet" by Bridget Galaty; "Olive Oil and Water" by Honor Miles; "Greed" by Ally Brown; "The Earthly Appetizer" by Mckenzie Fluta; "Original Man" by Griffin Huber; "Fetty Guac" by Giselle Diaz; and "The Long Haul" by Connor Siegfried. Come and congratulate the achievements of our VCA students.
SENIOR RECITALS
The following students have scheduled their Senior Recitals in March:
ROMINA MURATOVA (Piano) – Friday, March 3 – 7:00 pm
JOHN BICKLE (Band) Monday, March 6 – 7:00 pm
ELI CASTRO and RACHEL ENGLAND (Band and Orchestra) – Wednesday, March 8 – 7:00 pm
GREER RAMSEY-WHITE and EMMA COHEN (Orchestra) – Monday, March 13 – 7:00 pm
SIMONE HAMMETT-LYNCH (Orchestra) – Thursday, March 23 – 7:00 pm
ARIANNA MONTOYA-GARCIA (Orchestra) – Friday, March 24 – 7:00 pm
DSA CONCERT HALL
TICKETS: FREE EVENT
Senior Recitals are a rite of passage of our performing arts seniors; all events are free and open to fellow students, family and friends. This is a chance to see how far our Seniors have progressed toward a truly artistic life after school. They deserve your congratulations.
BAND SPRING CONCERT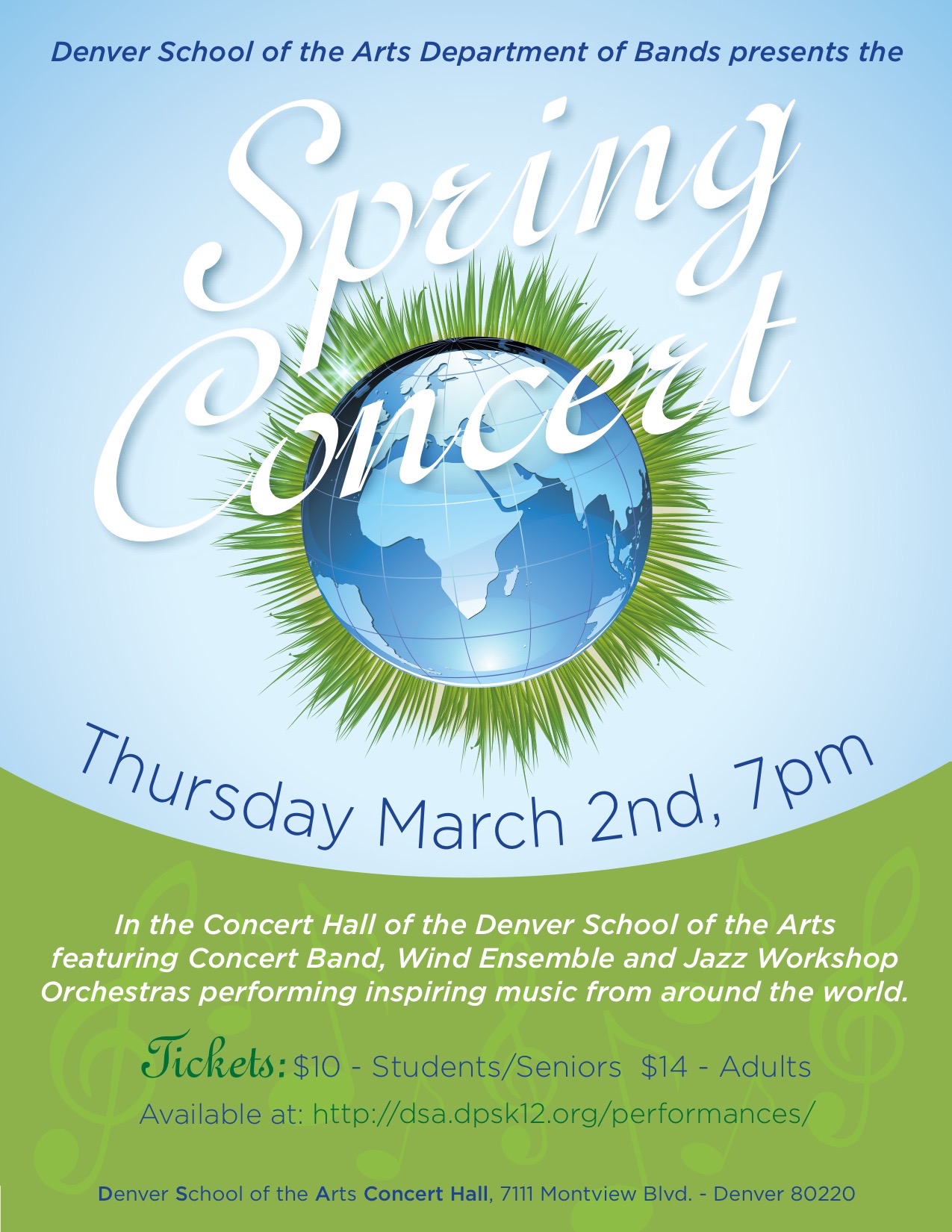 THURSDAY, March 2 – 7:00 pm
DSA CONCERT HALL
TICKETS: Adults: $14.00
Students/Seniors: $10.00

The Spring Concert of the Bands Department will feature the Concert Band, Wind Ensemble, and JWO groups in a showcase of tremendously inspired concert music. Music from marches to 1940's dance jazz music will be on the agenda as well as some surprise performances as well!
Come early to the concert and join us for dinner. A fundraising Potluck dinner will be provided by the band parents before the concert and at intermission for donations as you see fit. So don't do dinner – come join us for a meal, convivial conversation with other parents, and a wonderful concert. What more could you ask for??
L'HISTOIRE DU SOLDAT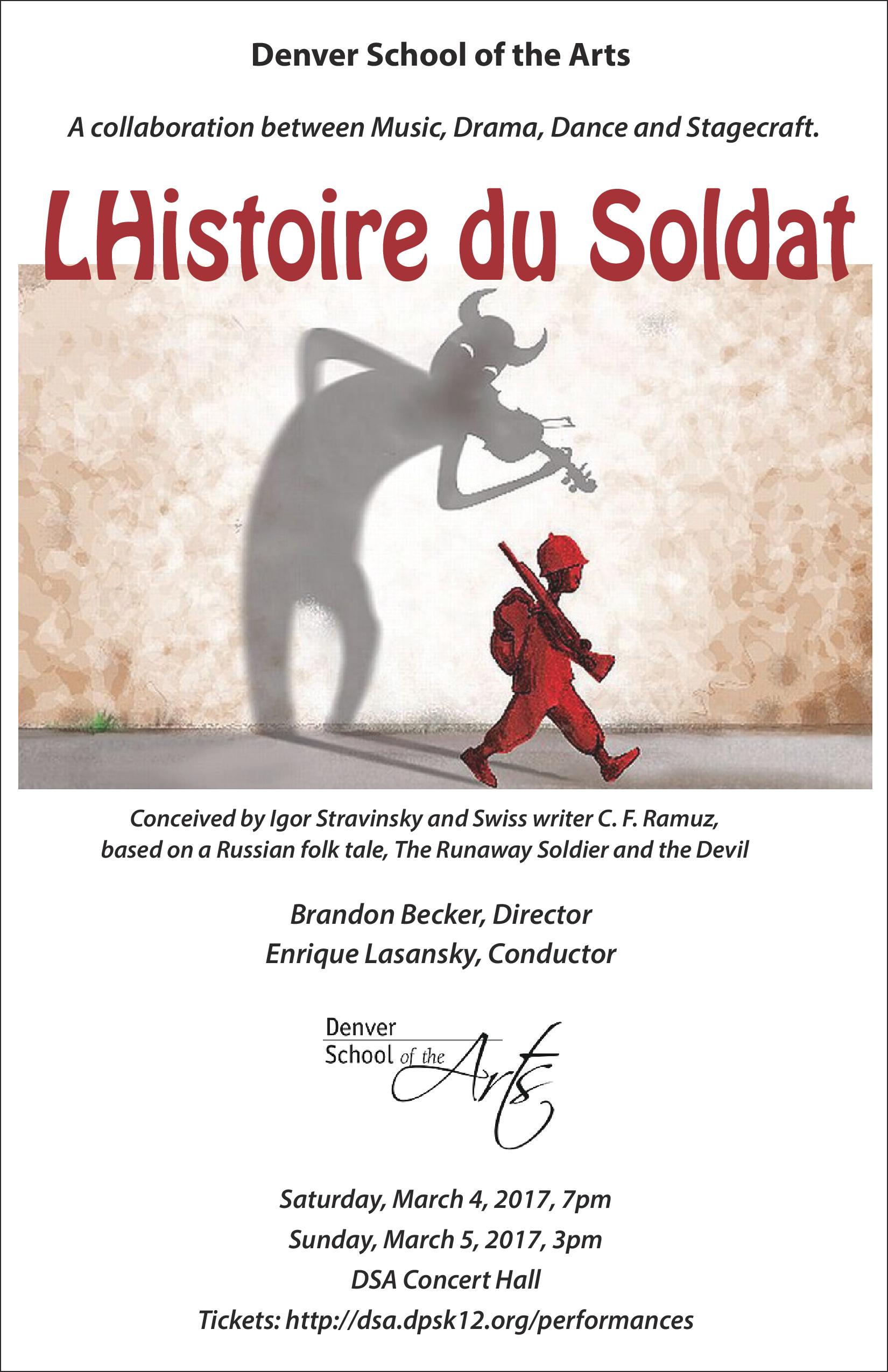 SATURDAY, March 4 – 7:00 pm
SUNDAY, March 5 – 3:00 pm
DSA CONCERT HALL
TICKETS: Adults: $14.00
Students/Seniors: $10.00

Written in 1918 by Igor Stravinsky, L'HISTOIRE DU SOLDAT or The Soldier's Tale was conceived as a dance, music and spoken piece for three actors, additional dancers, and an ensemble of musical accompaniment. A tale that has been repeated in song and legend, our soldier trades his fiddle to the Devil for untold wealth and then regrets this foolhardy move. He gains wealth, but loses love and contentment until he figures out a way to get his fiddle back. But even that doesn't work out too well for him. Come see this rarely produced morality piece featuring a collaboration of the Orchestra, Dance, Theatre, and Stagecraft departments.
VISUAL ARTS THIRD QUARTER SHOW
THURSDAY, March 9 – 6:00 pm
DSA MAIN HALL
TICKETS: FREE EVENT
VA's 3rd Quarter Show will feature clay work by 6th and 7th graders who are studying prehistoric and ancient art history. A unique selection of clay and paper mache masks are included in this exhibit as well as advanced portfolio pieces by Juniors and Seniors.
The Visual Arts Department Gallery (in the Administrative Offices) is currently showing a selection of ceramic pieces by the Colorado Potters' Guild and many of the pieces are for sale. Check out the new art adorning our display spaces, halls and galleries the next time you are in the building.
VOCAL MUSIC POPS SHOW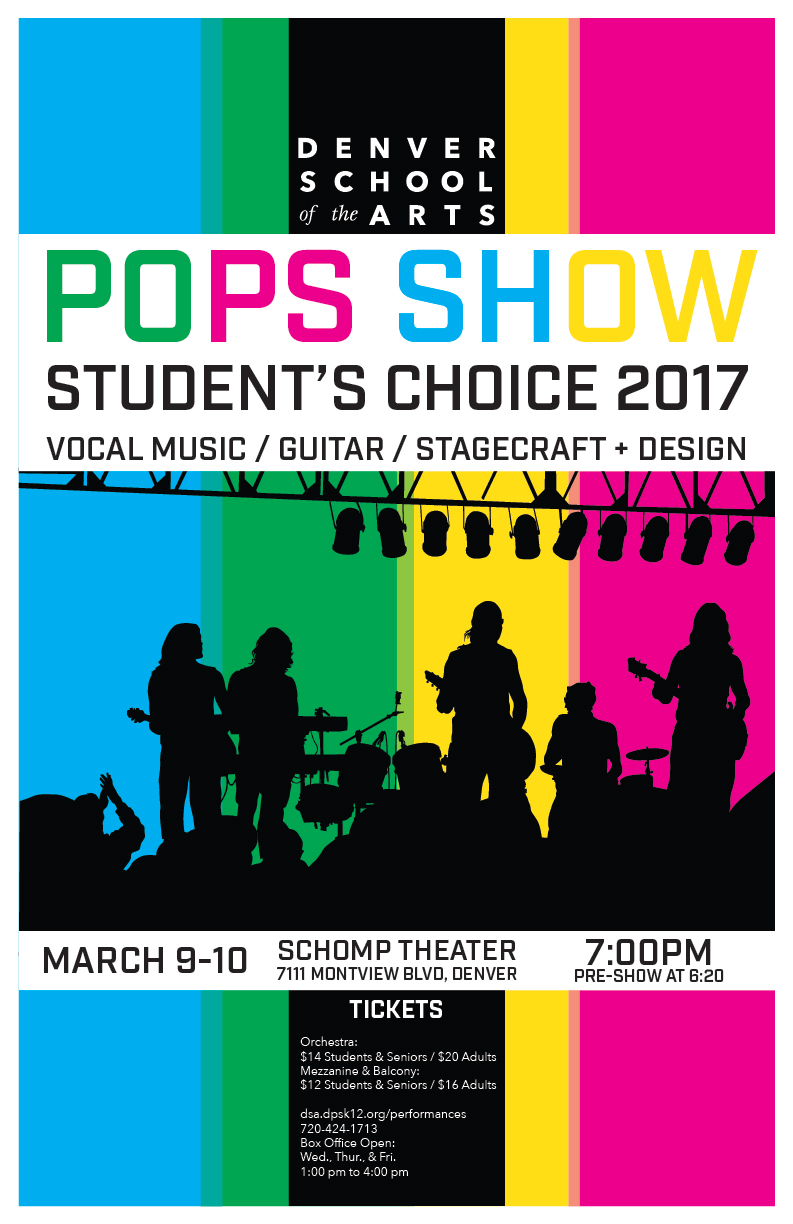 THURSDAY, March 9 – 7:00 pm
FRIDAY, March 10 – 7:00 pm
DSA SCHOMP THEATRE
TICKETS: Adults: $14.00
Students/Seniors: $10.00

Our HS singers will be performing their unique arrangements of contemporary and classic pop tunes. You will hear small ensembles, duets, trios and solos as part of our annual Pops Show tradition – along with special performances by our elite chamber groups: 4Squared and Vocal Jazz Ensemble. Some notable tunes include Poker Face (Lady Gaga); Sweet Escape (Gwen Stefani); Pray You Catch Me (Beyoncé); Demons (Imagine Dragons); I Will Wait (Mumford & Sons); Toxic (Britney Spears); plus much more.
Don't forget to enjoy our Pops Café Pre-Show starting at 6:20 as well as intermission performances in the lobby! This popular show usually sells out so buy your tickets early.
ORCHESTRA CONCERT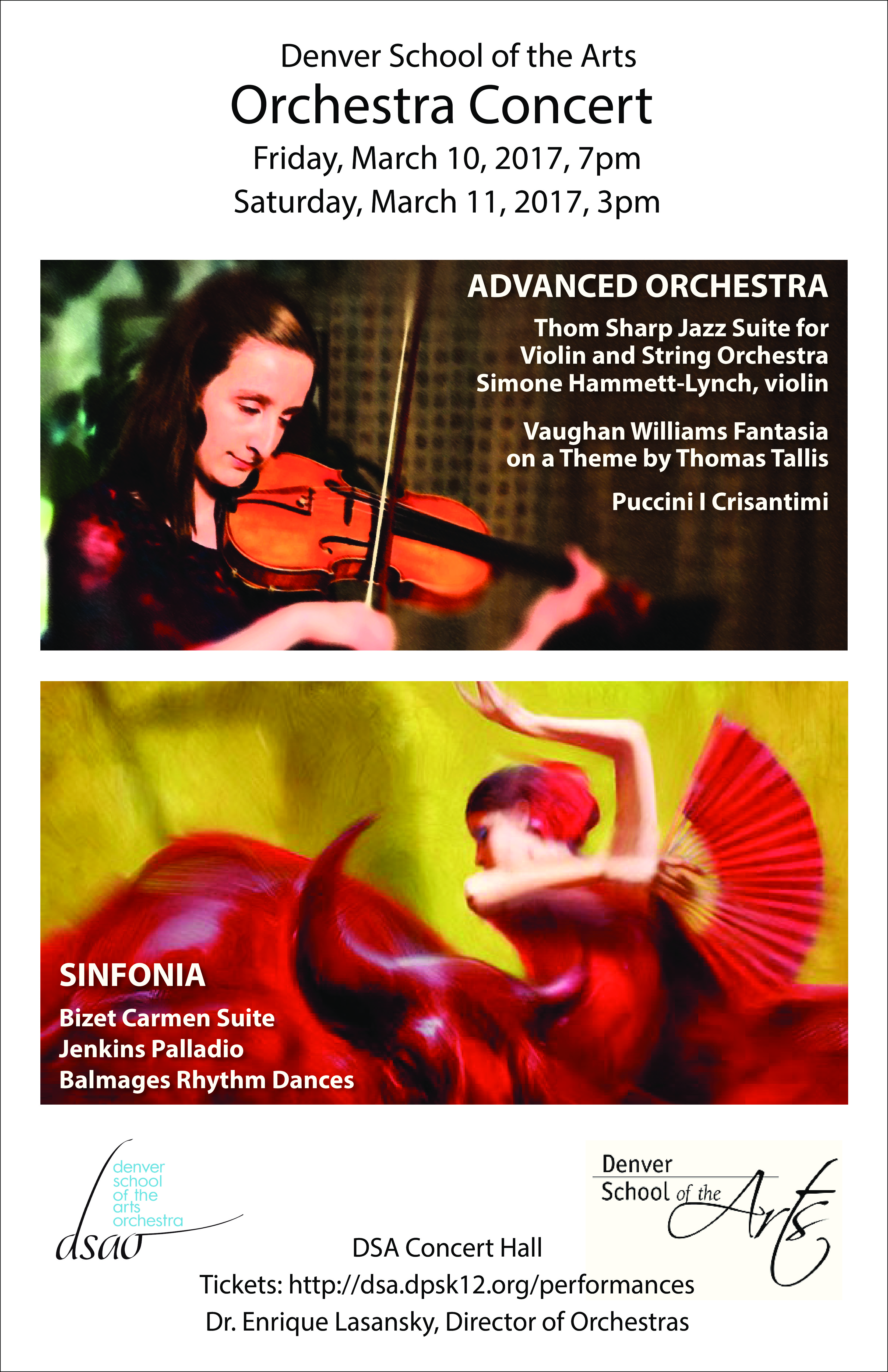 FRIDAY, March 10 – 7:00 pm
SATURDAY, March 11 – 3:00 pm
DSA CONCERT HALL
TICKETS: Adults: $14.00
Students/Seniors: $10.00

The High School program includes FANTASIA ON A THEME BY THOMAS TALLIS composed by Ralph Vaughan Williams in 1910. The original melody by Tallis (1505-1585) was part of the English Renaissance movement and was written for the Archbishop of Canterbury. A popular classical piece, it was also used in the soundtrack of the movie MASTER AND COMMANDER. It will be followed by JAZZ SUITE FOR VIOLIN AND STRING ORCHESTRA composed by Thom Sharp and will feature Senior Violinist Simone Hammett-Lynch in a piece that encompasses swing, a jazz ballad, and a finale of pure jazz. Their final offering will be I CRISANTIMI (Chrysanthemums), an elegy which was written by Puccini in a single night as a response to the death of his friend, the Duke of Savoy, Amadeo I of Spain.
The Middle School program will feature the CARMEN SUITES which are drawn from Georges Bizet's 1875 opera CARMEN. After Bizet's death, his collaborator Ernest Guiraud compiled these pieces for Orchestra. PALLADIO was written by Karl Jenkins in 1995 in homage to the 16th century architect Andrea Palladio whose work epitomized order and harmony. PALLADIO has also been used in a TV commercial for DeBeers Diamonds. The final piece for the Middle School program is Brian Balmages' RHYTHM DANCES. Balmages is a prolific contemporary composer, conductor, and musician who maintains an active schedule of teaching, conducting and composing for honor bands. His RHYTHM DANCES is a wild dance that will take you on a rhythmic roller coaster.
THE LORAX
WEDNESDAY, March 15 – 7:00 pm
THURSDAY, March 16 – 7:00 pm
FRIDAY, March 17 – 4:30 pm
FRIDAY, March 17 – 7:00 pm
SATURDAY, March 18 – 4:30 pm
SATURDAY, March 18 – 7:00 pm
DSA BLACK BOX THEATRE
TICKETS: Adults: $14.00
Students/Seniors: $10.00

Fifteen cents and one very small nail
Plus the shell of a very old snail
Was the price little Ted paid for a tale.
Behold the Lorax who speaks for the trees
And the fate of the Truffalo from which were made Thneeds.
How the forest was lost and the rivers ran dry
And the Humming fish left with a tear in their eye.
A tale of destruction with no one to bless
Except that the Lorax believes in "Unless."
Our creative Stagecraft and Design students have written the script and are producing their own version of the classic Dr. Seuss cautionary tale. You will be delighted and amazed at their unique take on the story they were read as children. Not to be missed!
CREATIVE WRITING SENIOR PROJECTS
THURSDAY, March 16 – 7:00 pm
DSA CONCERT HALL
TICKETS: FREE EVENT
Creative Writing Senior Projects consists of both written pieces created and performed by the majors and word-related art installations placed around the building. These art forms are centered around themes that the Creative Writing seniors are exploring personally, artistically, and through literature. The two hour event will begin in the Concert Hall for the performance pieces. After these presentations, friends and family will have a chance to explore their art installation projects around the building.
Please keep in mind that some senior work may contain mature subject matter. Because of this, please use discretion when considering attendance of younger children.
While Senior Projects are free and require no tickets, we do encourage donations at the door to help with our programs. Please make sure to show up a few minutes early so we can begin promptly at 7:00.
MIDDLE SCHOOL JAZZ GUITAR CONCERT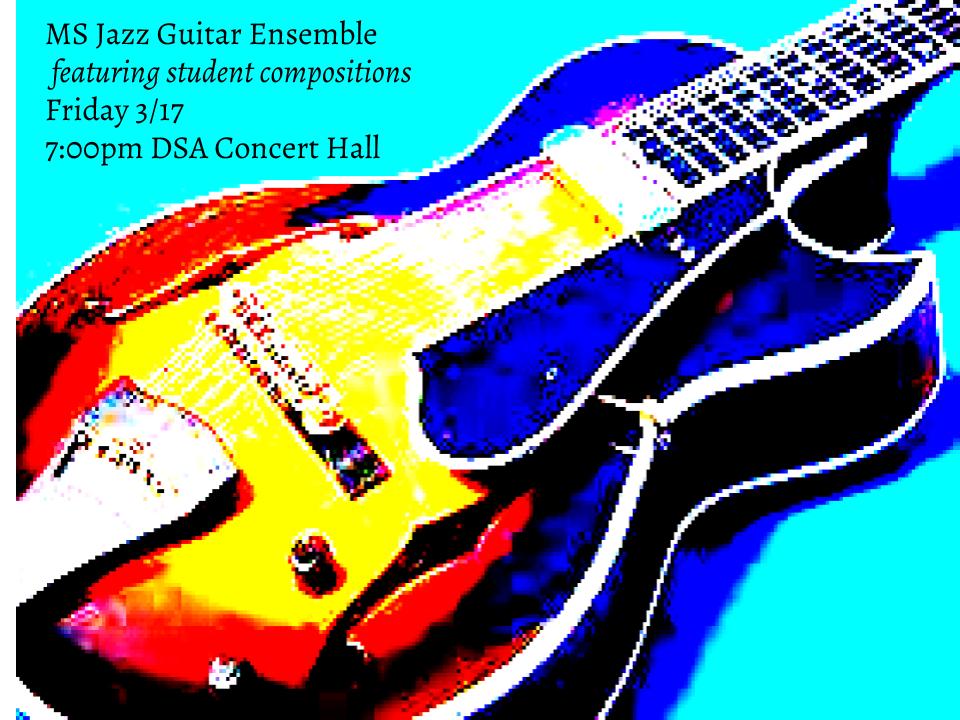 FRIDAY, March 17 – 7:00 pm
DSA CONCERT HALL
TICKETS: Adults: $14.00
Students/Seniors: $10.00

Please join us as our talented Middle School Guitar Majors entertain with jazz classics and original compositions.