The box office is located in Room A121 across from the Kay Schomp Theatre and is open for over-the-counter or phone ticket sales Weds-Fri from 1:00 – 4:00 pm. On line tickets can be purchased 24/7 but sales will cease three hours before each performance. Additionally, unless the performance is sold out, available tickets can be purchased over-the-counter at the box office in the two hours before each performance. For questions or assistance, the Box Office phone number is 720-424-1713.
Upcoming Performances:
FULL CIRCLE ALUMNI SHOWCASE!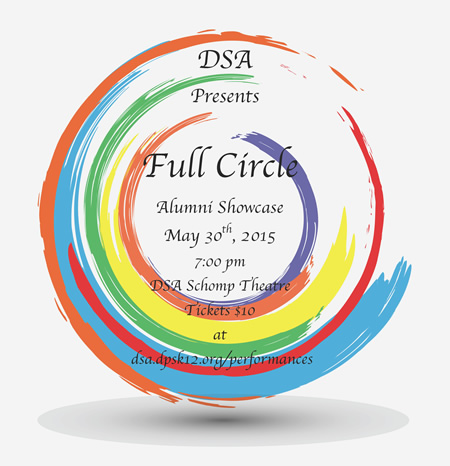 Saturday, May 30 at 7:00 pm
Schomp Theatre
ALL TICKETS: $10.00
Click here to purchase tickets.
Don't miss the FULL CIRCLE ALUMNI SHOWCASE!
This truly memorable evening will feature all DSA Alumni talent from a variety of class years…amazing vocal creations of Khalil DeShaun Arcady…fabulous sister duet with Erienne and Lauren Romaine…live action painting of a 10-foot canvas by Patrick Berry…inspiring vocals from LA American idol finalist, Julie Zorilla…award winning dance solo by Kadin Mestas…Broadway tunes performed by Terra Salazar and Angela McComb…and more! Plus there will be a huge finale performed by the newly graduated class of 2015!
Enjoy an entertaining evening while supporting your DSA Alumni!