The box office is located in Room A121 across from the Kay Schomp Theatre and is open for over-the-counter or phone ticket sales Weds-Fri from 1:00 – 4:00 pm. On line tickets can be purchased 24/7 but sales will cease two hours before each performance. Additionally, unless the performance is sold out, available tickets can be purchased over-the-counter at the box office in the two hours before each performance. For questions or assistance, the Box Office phone number is 720-424-1713.
PLEASE NOTE: AT SOLD OUT SHOWS, ALL TICKETS/SEATS NOT CLAIMED BY CURTAIN TIME WILL BE RELEASED AND RESOLD TO PATRONS WHO HAVE SIGNED IN FOR A WAITING LIST. PLEASE ARRIVE PROMPTLY!!
Upcoming Performances:
OUR BODY OF WORK – Visual Arts Senior Exhibit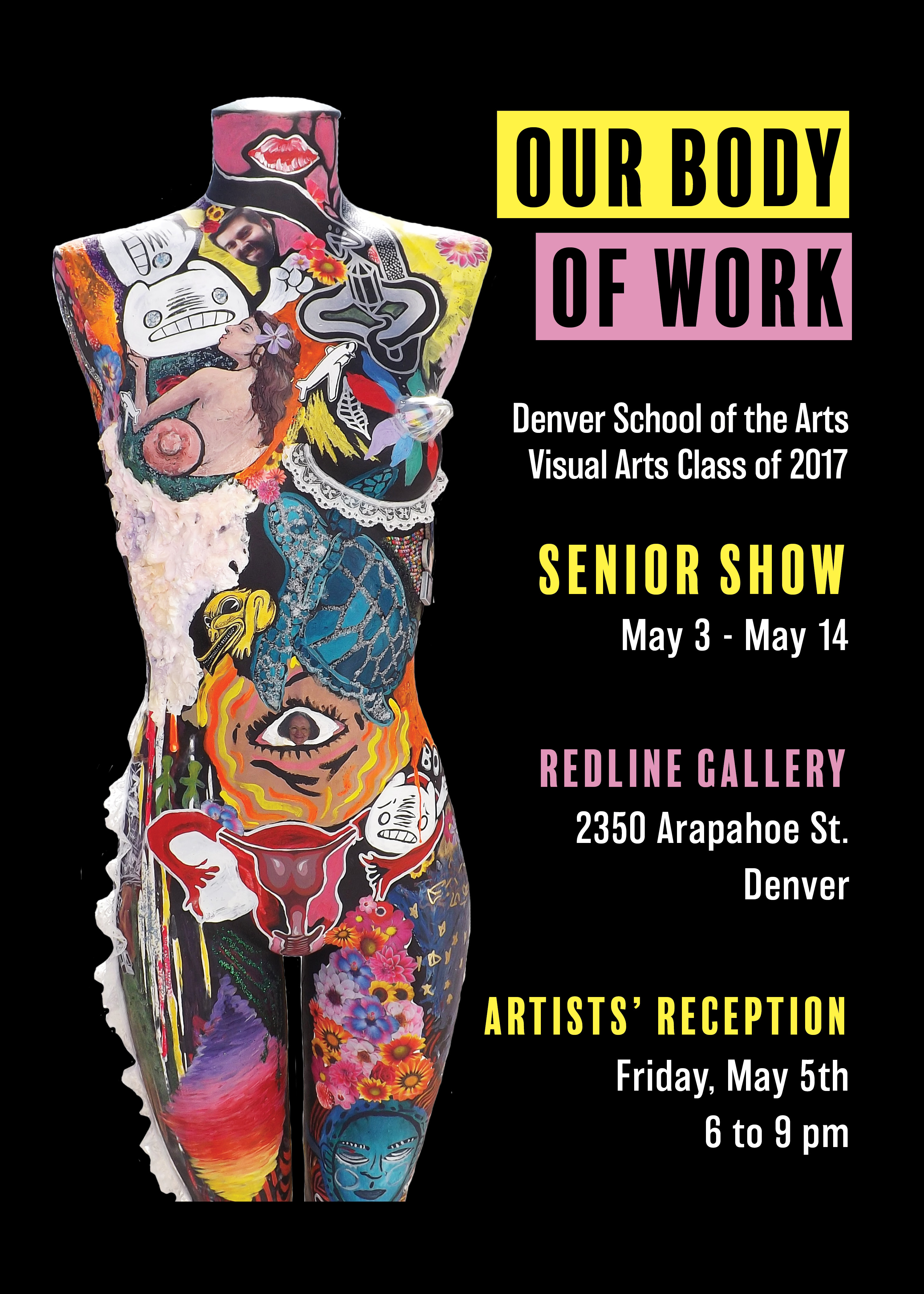 EXHIBIT WILL BE ON DISPLAY FROM MAY 3-14
REDLINE ART GALLERY at 2350 Arapahoe
The final exhibit of our graduating Seniors will take place at the prestigious Redline Gallery in downtown Denver. The work of the seniors will include all mediums including painting in various media, drawing, installation art, video performances, ceramics and other types that only their fertile imaginations could conjure. Come enjoy and be amazed.
LAWS OF ASSOCIATION – Senior Theatre Project
Written by Calla Horan, Zoe Ogden and Kian Shah
Directed by Sam Theobald
FRIDAY, May 12 – 7:00 pm
SATURDAY, May 13 – 3;30 pm – ADDED PERFORMANCE
SATURDAY, May 13 – 7:00 pm
DSA BLACK BOX THEATRE
TICKETS: Adults: $14.00
Students/Seniors: $10.00

This is the World Premiere of LAWS OF ASSOCIATION written, directed, and acted by the Senior Theatre Majors of 2017. Three people find themselves stranded on a dock – with no knowledge of who or where they are. As their lives seem to both stand still and move forward at a rapid pace, LAWS OF ASSOCIATION questions time, mortality, and what it means to be human through mysteries as ambiguous as they are intriguing.
ORCHESTRA CONCERT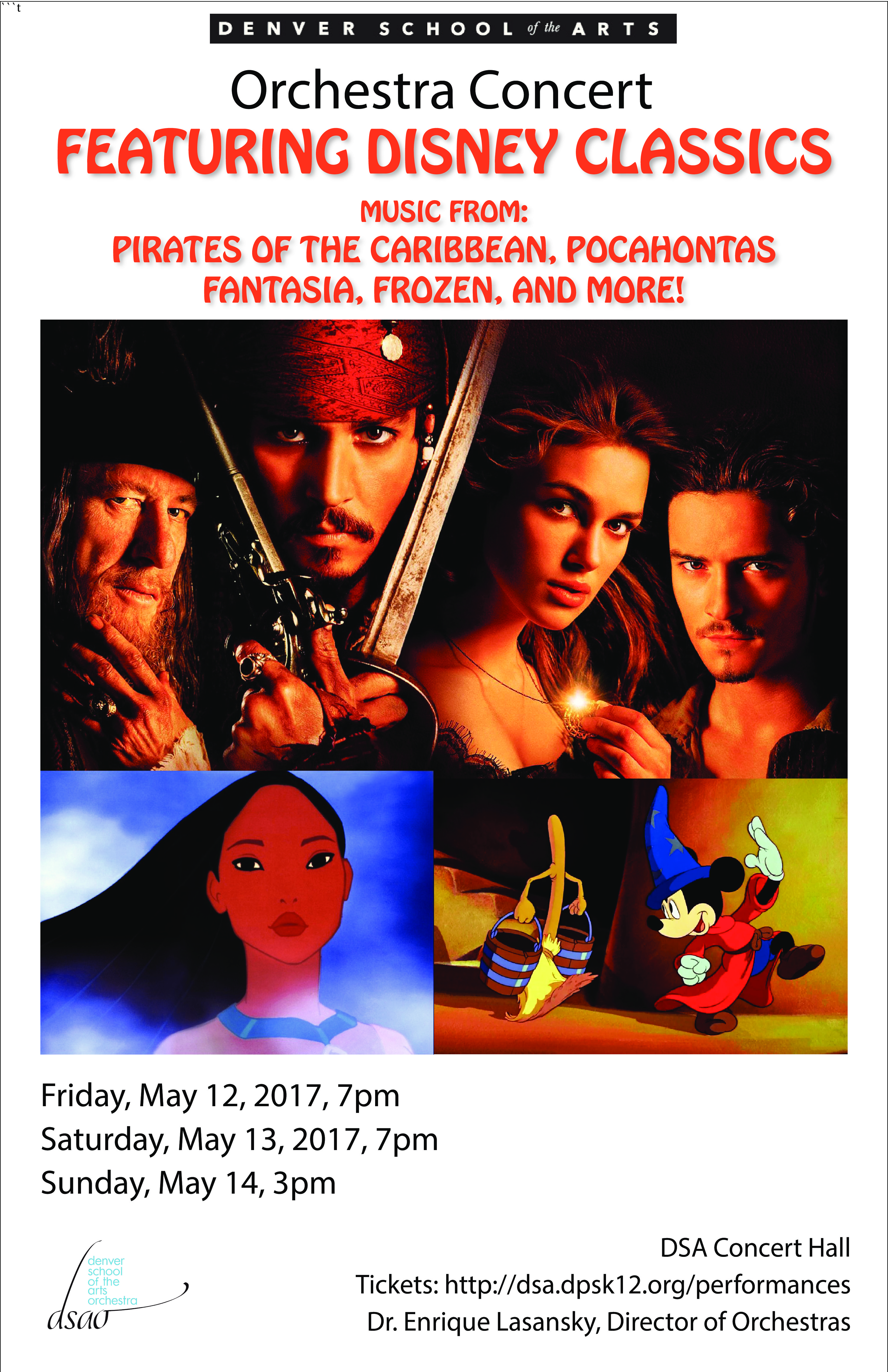 FRIDAY, May 12 – 7:00 pm
SATURDAY, May 13 – 7:00 pm
SUNDAY, May 14 – 3:00 pm
DSA CONCERT HALL
TICKETS: Adults: $14.00
Students/Seniors: $10.00

Join us for the Orchestra Department's last concert of the year. They will be celebrating the music that has accompanied Disney movies through the generations featuring music from movies such as PIRATES OF THE CARIBBEAN, FROZEN, POCOHANTAS, FANTASIA, and many others.
VOCAL YEAR-END BANQUET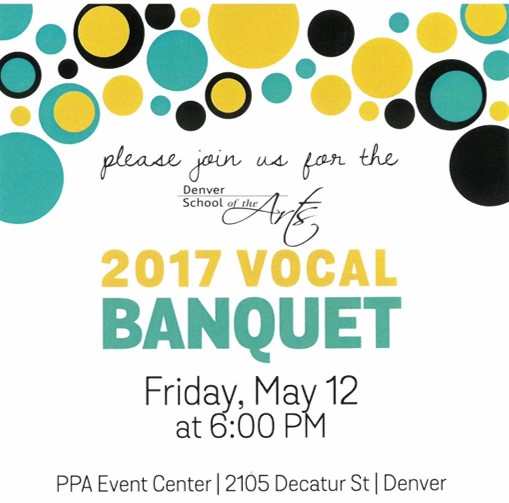 FRIDAY, MAY 12 – 6:00 PM
PPA Event Center at 2105 Decatur Street, Denver
TICKETS: Now and up through April 30: $25.00
May 1 – May 5: $30.00
May 6 – May 11: $40.00
At the door: $50.00

The Vocal Department invites you to join in the celebration of the end of the school year at DSA. We will be celebrating with food, drink and music at the PPA Event Center. Buy your tickets early to save money and to let us know that you are coming.
FINAL JAM GUITAR CONCERT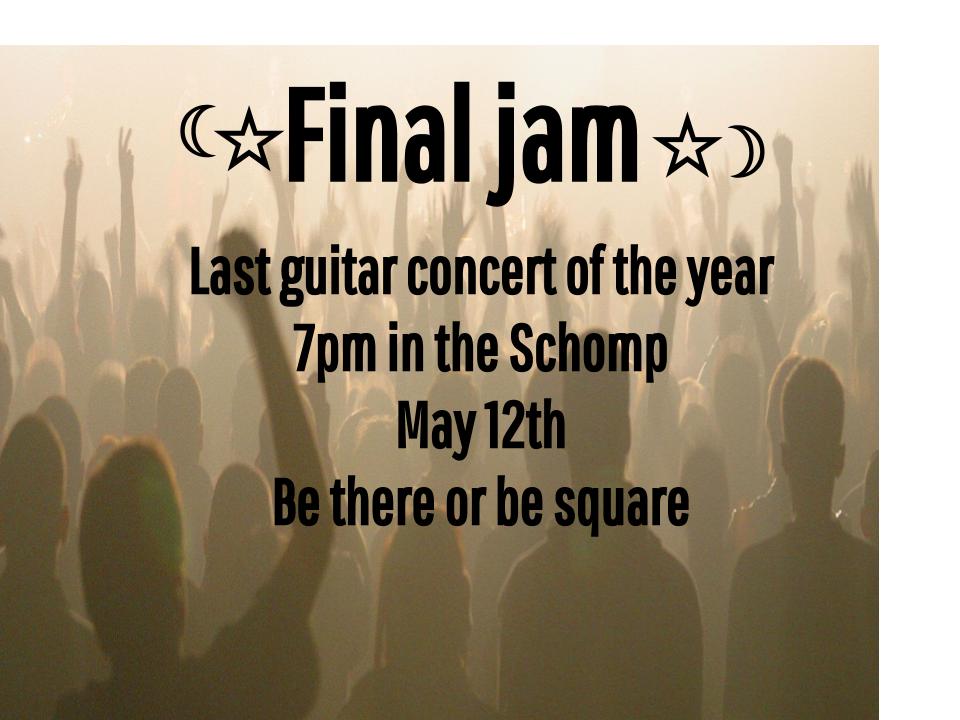 FRIDAY, May 12 – 7:00 pm
DSA SCHOMP THEATRE
TICKETS: Adults: $14.00
Students/Seniors: $12.00

Join us for the final jAM Guitar concert of the school year. This is a Guitar and Stagecraft and Design collaboration which will feature additional guests from Vocal Music, Piano, Band, and Orchestra. A very special concert for everyone.
SPRING PIANO FESTIVAL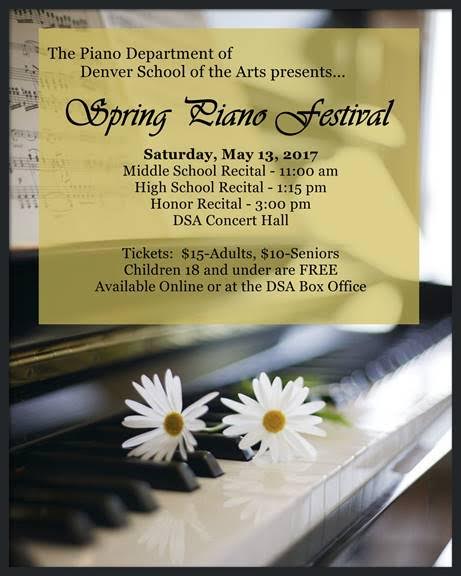 SATURDAY, May 13 – 11:00 am – Middle School recital
1:15 pm – High School recital
3:00 pm – Honors recital
DSA CONCERT HALL
TICKETS: Adults: $15.00
Seniors: $10.00
Students 18 and under FREE

The final Piano event for the school year. You will appreciate hearing for yourself the progress our Piano students have made in the last year. You can hear the Middle School students at 11:00 in the morning; the High School students at 1:15 pm with the Honors students performing at 3:00. See one, two or three concerts for the same price.
STAGECRAFT AND DESIGN ANNUAL BANQUET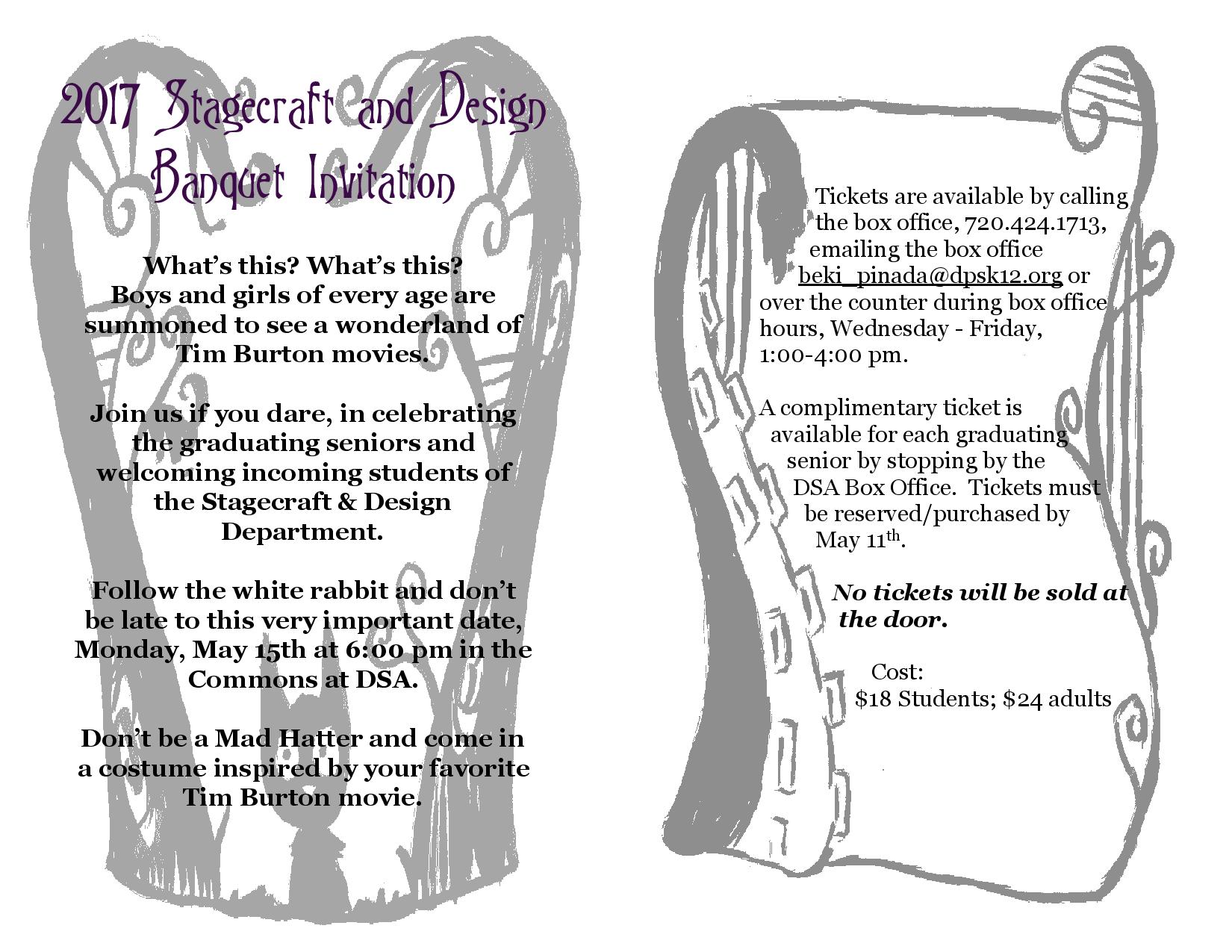 MONDAY, MAY 15 – 6:00 pm
DSA COMMONS
TICKETS: Adults: $24.00
Students: $18.00

What's this? What's this? boys and girls of every age are summoned to see a wonderland of Tim Burton movies. Join us if you dare, in celebrating the graduating Seniors and welcoming incoming students of the Stagecraft & Design Department.
Follow the white rabbit and don't be late to this very important date for the banquet on Monday, May 15th at 6:00 pm in the Commons at DSA. Don't be a Mad Hatter and come in a costume inspired by your favorite Tim Burton movie.
VOCAL MUSIC HIGH SCHOOL FAREWELL CONCERT
TUESDAY, May 16 – 7:00 pm
DSA CONCERT HALL
TICKETS: Adults: $14.00
Students/Seniors: $10.00

This concert will feature songs of many genres and cultures as we say farewell to our Seniors and will include the talented vocalists in 4Squared, the Vocal Jazz Ensemble, Bellissima, and the Chorale.
TAKE 5 – DANCE JUNIOR PROJECTS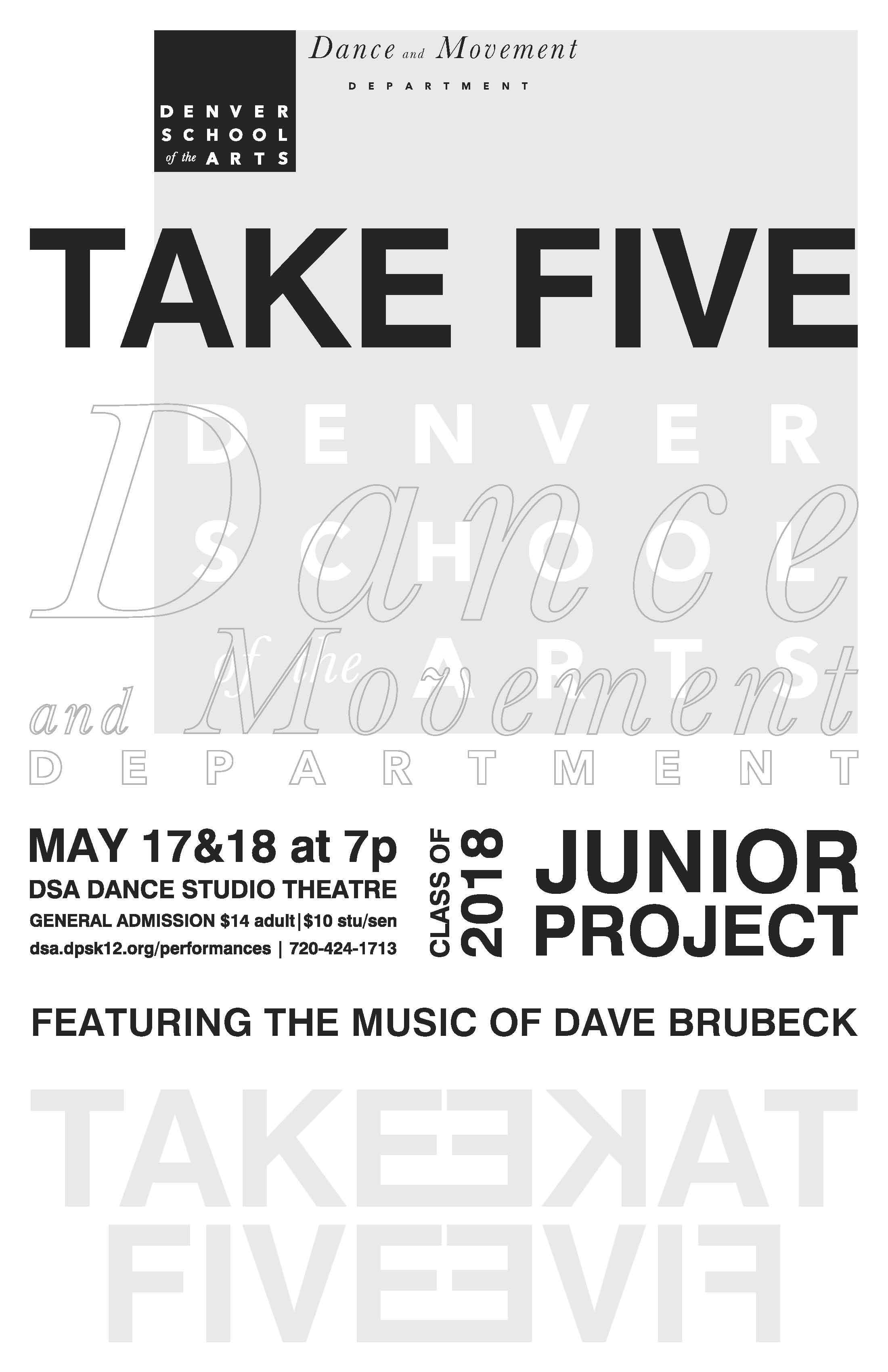 WEDNESDAY, May 17 – 7:00 pm
THURSDAY, May 18 – 7:00 pm
DSA DANCE STUDIO
TICKETS: Adults: $14.00
Students/Seniors: $10.00

TAKE 5, the Class of 2018 Junior Project is a collaborative concert choreographed and directed by the current Junior Dance Majors. Performing to the musical compositions of American jazz artist, Dave Brubeck, this concert will be a celebration of contemporary dance and jazz music.
FRINGE FESTIVAL GALA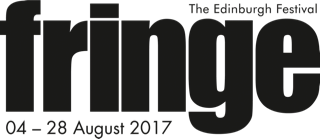 SATURDAY, June 3 – 6:00 pm
The Wolf Theatre at the Jewish Community Center (350 South Dahlia)
TICKETS: $75.00
OR $200 for a four-pack of tickets purchased all at once

The DSA Theatre Department is sponsoring this fundraiser to help pay the expenses of our Theatre Majors who are taking two original plays to the Edinburgh (Scotland) Fringe Festival in August. The festive evening will consist of bagpipes in concert, a fantastic Silent Auction for goods and services, a Whisky tasting table, passed small plates, and the premiere performances of the two original plays – WALL and WALL II. This will be the ONLY Denver performances before they are taken to Scotland. Seating is limited so purchase seats early to support this unique opportunity for our students.