DSA is Tuition-Free, but Donation Dependent!

The funding DSA receives from the district is not sufficient to cover the costs inherent in a specialized, high-achieving school like DSA. In order to offer a first rate, conservatory style program that prides itself on excellence and rigor in both arts and academics, DSA is confronted with a "gap" of $1,380 per student for the 2018-2019 school year.
This gap covers:
· DSA's robust Visiting Artists Program with over 200 professional artists to work with students each year
· Important academic supports, including tutors, speakers, grading support, etc.
· Critical capital improvements for our unique building
· Additional campus security personnel and cameras
· Continued technology upgrades and updates
Please consider a gift of $115 per month which will Fill the Gap for your student. Or make a monthly commitment at whatever level fits your budget. Our goal is 100% participation from DSA families by Friday, November 16th.
Click here to Fill the Gap and become a Perennial Patron! 
Click here to Fill the Gap with a One-Time Donation
---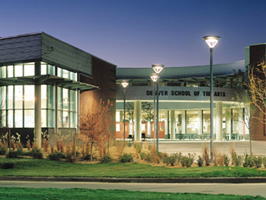 The Denver School of the Arts is a comprehensive secondary arts magnet school (grades 6-12) in Denver Public Schools. In addition to a rigorous academic program, students engage in intensive studies in Creative Writing, Dance, Music, Stagecraft and Design, Theatre, Video Cinema Arts, and Visual Arts. DSA is committed to fostering a lifelong love of the arts in a culturally diverse, academically challenging environment.
---
News Updates:
---
---